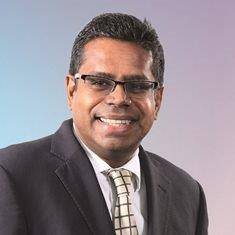 Mr Dilshan Rodrigo
Chief Operating Officer
(Executive Director)

MBA (UK), FCCA (UK), FCMA (UK) 
Appointed an Executive Director in July 2020. Mr Rodrigo is the Chief Operating Officer of HNB PLC with over 18 years' experience in the field of banking presently providing administrative leadership to Finance, Credit, Operations, Risk Management, Banking Services, Compliance and Internal Audit. He is overseeing the cross functional teams involved in improving governance and compliance by serving in several Board and Management committees in the Bank.

Mr Rodrigo has held many senior positions in multiple industries ranging from banking, insurance, investment banking and apparel. He is a Director of HNB Assurance PLC, Guardian Acuity Management, Sithma Development Ltd and Credit Information Bureau. He played a catalyst role in the Bank's transformation and cultural change by being the driving force towards centralization, automation, outsourcing and process improvement initiatives and recognized for driving a performance culture through training and talent acquisition and introducing several breakthrough cost optimization initiatives. He possesses a wealth of experience encompassing both the retail business and support functions as deputy to the CEO. He has also been providing leadership to Bank's Recoveries vertical since early 2019.

Mr Rodrigo serves on the councils of the Sri Lanka Institute of Directors (SLID) and as the Chairman Policy Advocacy Committee of Asian Bankers Association (Taiwan) during 2011/12 and 2019/20. He has served on local councils of CIMA, ACCA and Risk Professional Forum the latter two as President for two year terms.

He has served as a lecturer and examiner on various undergraduate (CIMA, ACCA) and postgraduate programs (PIM and University of Wales MBA programs) for over a decade and SLID as Lecturer Director Certification Program – Risk Management and Corporate Responsibility Modules. Also a presenter on technical papers in various forums locally and overseas on Strategy, Business Transformation and Risk Management.