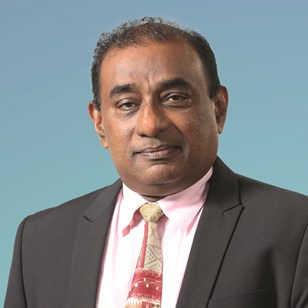 Dr L R Karunaratne
Director
(Non-Executive Director)
B.E (India),
T.Eng (CEI), MIE (Lon),
MBA (U.K.),
Ph.D (U.K.),
FIIM (HK),
FCIOB
Appointed Director in October 2011, Dr Rohan Karunaratne, a Consultant Engineer, is the incumbent President of the Ceylon Institute of Builders (CIOB), engaged in developing the construction industry and construction builders in Sri Lanka. He is the Managing Director of A.K.K. Engineers (Pvt) Ltd, an Engineering Company specializing in building construction, civil engineering, water supply and waste water, construction of swimming pools and now in road construction, the Chairman of Associated Motor Finance Co Ltd and is also the Deputy Chairman of the International Institute of Management.

He has over 27 years of experience in Civil Engineering, Building Construction, Engineering Consultancy, Construction Training, lecturing in Civil Construction, Designing & Planning. He was the past Chairman of the National Construction Association of Sri Lanka and was the first Chairman of Human Resources Development (Pvt) Ltd and Advance Construction Training Academy.

Dr Karunaratne holds a PhD in Management and a MBA from the Sussex University (UK). He is an Engineering Graduate in Civil Engineering and an advanced Diploma holder in HIET (Chennai - India). He is a Fellow of the International Institute of Management and a Fellow of the Ceylon Institute of Builders.