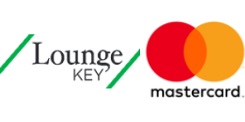 Lounge Access for Mastercard Cardholders
Escape the crowded departure halls and wait for your flight in the comfort of an airport lounge, with the complimentary LoungeKey membership which comes with your HNB Mastercard World, Mastercard Corporate & Mastercard Business.

With a simple swipe of your card, you can access over 800 global airport lounges in over 120 countries around the world without the need for a separate membership card.


Cardholder Benefits
Complimentary LoungeKey membership for HNB Mastercard World, Mastercard Corporate & Mastercard Business which includes:
02 Complimentary Visits (share between member and guest) each calendar year for every HNB Mastercard World cardholder & Mastercard Business (
)
Paid access to overseas lounges for cardholder & guests at USD32 per person, per additional visit.
Complimentary refreshments and snacks.
Access to business facilities, internet, phones, fax machines and conference space.
Access Your Benefits
To find participating lounges:
To access participating lounges:
Register on https://www.loungekey.com/MastercardSA and download the LoungeKey mobile app to see lounges available for you.
Present your HNB Mastercard World at the lounge, your boarding pass and identify yourself as a LoungeKey member.
Your card will be swiped to confirm eligibility, to register your visit and to debit payment of the lounge access fee, where applicable. You may incur charges for lounge access. Please note that the Lounge Key terminal will not prompt for the lounge visit fee (where applicable) at the time of entry. This will be charged to your card account after 3-5 days.
Terms and conditions apply.