HNB's Islamic Banking success story continues: Takes home five awards at SLIBFI 2023
HNB Al-Najah wins 3 gold awards including Islamic Finance Entity Unit of the Year
Hisham Ally recognized with Transformative Leadership Award
HNB Al Najah-nominated clients win Gold and Merit in ESG Awards Category
Bottom line of IBU crosses Rs. 1 Bn just a decade from its inception
Consolidating its position as the nation's leader in Islamic Banking solutions, Sri Lanka's most innovative private sector bank HNB PLC's Al Najaah unit continued its winning streak at the Sri Lanka Islamic Banking and Finance Industry Awards (SLIBFI) 2023.
"Since inception, HNB has served as a partner in progress to customers from all walks of life. Throughout, we have sought to continuously evolve our product and service portfolio to offer increasingly personalized solutions tailor-made to their specific needs.
"The launch of HNB Al Najah just a decade ago was a key extension of this broader mission to promote greater financial inclusivity, especially at the grassroots of the Sri Lankan economy. This award stands as a testament to their inspirational work, and our shared mission of expanding access to finance and opportunity for every Sri Lankan," HNB MD/CEO, Jonathan Alles said.
The bank took home three awards, including Gold Awards for the prestigious Islamic Finance Entity of the Year and the Islamic Finance Window/Unit of the Year. Established in 2012, HNB's Islamic Banking Unit (IBU) has consistently stood at the forefront of the Islamic Banking space, amassing numerous awards since 2014.
"Success within the complex operating model of Islamic Finance is a remarkable feat, given the unique procedural controls, risk management principles, and strict prohibitions on interest generation that are required of any Sharia-compliant financial product. 
"Through hard work, dedication and an unwavering commitment to these principles, HNB Al-Najah has grown exponentially, and today generates profits in excess of Rs. 1 billion. This is an outstanding achievement, and we warmly congratulate the entire HNB Al Najah team for continuing to set the standard for excellence in Islamic Banking in Sri Lanka," HNB Wholesale Banking Group Deputy General Manager, Damith Pallewatte said.
In addition to these awards, HNB's DGM - Islamic Banking, Hisham Ally, received the Transformative Leadership Award of the Year, presented to notable personalities that have driven progress and innovation in the Islamic Banking space in Sri Lanka.
"Internationally, the market for Islamic Finance has reached US$ 4.2 trillion, and is expected to maintain a 10% CAGR up to 2028. This growth parallels our own journey over the past decade, and speaks to the immense untapped potential of HNB Al-Najah to support the aspirations of customers seeking Sharia-compliant products. In addition to bringing more previously unbanked individuals, SMEs into the formal banking system, the scaling up of Islamic Finance may also create new opportunities for attracting international capital, trade and investment into Sri Lanka, lending further momentum to HNB's overarching mission of rapidly rejuvenating the Sri Lankan economy," Ally said.   
Ally is a stalwart in Sri Lanka's Islamic Banking sector, from being a part of the core unit that introduced Islamic Banking to Sri Lanka to pioneering one of the largest Islamic Banking divisions in the country.
Notably, HNB-nominated clients were honored with the prestigious Gold and Merit Awards in the ESG category, which recognize their exceptional accomplishments in the realm of environmental, social, and governance (ESG) practices.
Organized by UTO EduConsult (UTO), the SLIBFI awards are one of the most prestigious awards in the Sri Lankan Islamic banking and finance industry, recognizing the outstanding performance of key players in the local industry. Prior to receiving the awards, applicants undergo a rigorous review and are assessed based on their audited financial data pertaining to the year under consideration by a reputed panel of judges.
With 254 customer centres and 800+ Self Service Devices (SSMs) nationwide, HNB is one of Sri Lanka's largest, most technologically innovative private banks. Consolidating its legacy in sustainability, good governance and corporate excellence, HNB was crowned the Best Corporate Citizen for 2022 at the Ceylon Chamber of Commerce Best Corporate Citizen Awards.
Additionally, HNB was ranked among the World's Top 1,000 Banks list compiled by the prestigious UK-based Banker Magazine for the sixth consecutive year in 2022, in addition to being crowned the Best Retail Bank in Sri Lanka for the 13th occasion at the prestigious International Excellence in Retail Financial Services Awards 2023 hosted by the Asian Banker Magazine.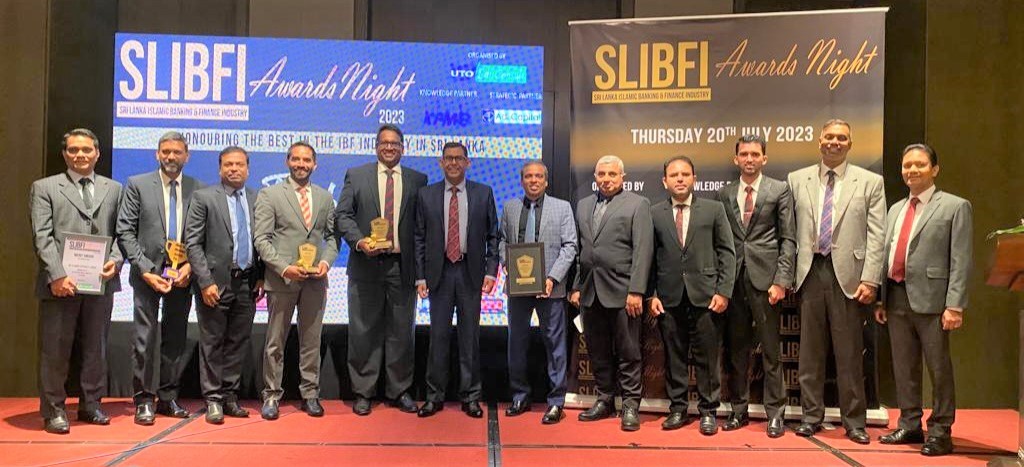 Islamic Banking, Hisham Ally (sixth from right), HNB DGM - Wholesale Banking, Damith Pallewatte (fifth from left), HNB AGM - Corporate Banking, Majella Rodrigo (second from right), HNB AGM - Emerging Corporates & Project Finance, Vijaya Vidyasagara (first from right) and the HNB Islamic Banking Team receiving the Awards