HNB allocates Rs. 10Mn to assist MSMEs affected by the economic crisis
HNB DGM CHRO/CTO, L. Chiranthi Cooray, presenting the grant to a MSME Customer N. K. M Priyadarshani from the HNB Maharagama Customer Center, in the presence of (from right) HNB DGM Retail and SME Banking Sanjay Wijemanne and HNB Head of Microfinance, Vinodh Fernando
Sri Lanka's most MSME-friendly bank, HNB PLC, once again allocated Rs. 10 million to assist entrepreneurs affected by the ongoing economic crisis as a part of its flagship 'Oba Venuwen Api' initiative to rebuild and revive the economy. 
The initiative launched with the onset of the COVID-19 pandemic in 2020 will offer a select 100 entrepreneurs across the island Rs. 100,000 each to be used for capital requirements. HNB DGM CHRO/CTO, L. Chiranthi Cooray, HNB DGM Retail and SME Banking Sanjay Wijemanne, HNB Head of Microfinance, Vinnodh Fernando, Head of SME and Micro Finance Indravasan Kailaivasan and Head of Marketing Upul Adikari were present at a special ceremony held to distribute the funds.  
"MSMEs are the backbone of the Sri Lankan economy. We have more than 500,000 entrepreneurs offering employment opportunities across various industries. It is only fair that entrepreneurs have a safety net and assistance given the hardships they have experienced, first by the pandemic and now the economic crisis. As a bank with a long history of working with MSMEs, we intend to continue supporting them in any possible way during these difficult times," HNB DGM CHRO/CTO, L. Chiranthi Cooray said. 
Notably, the bank assisted 117 microfinance customers in 2020 under the first phase and subsequently disbursed to 83 in 2021 during the second phase. Under the project's third phase, HNB will support 100 microfinance customers this year. 
The fund, established by HNB's Sustainability Foundation, aims to drive corporate citizenship through its strategic pillars, with the Bank's Customer Centers across the island. The foundation focuses on four strategic pillars: education, healthcare, empowering entrepreneurship and the environment. 
HNB has been closely linked to the growth of Sri Lankan enterprises since its establishment. The bank was the first to enter the MSME market in the 1980s to foster growth and wealth creation in Sri Lanka's rural economy.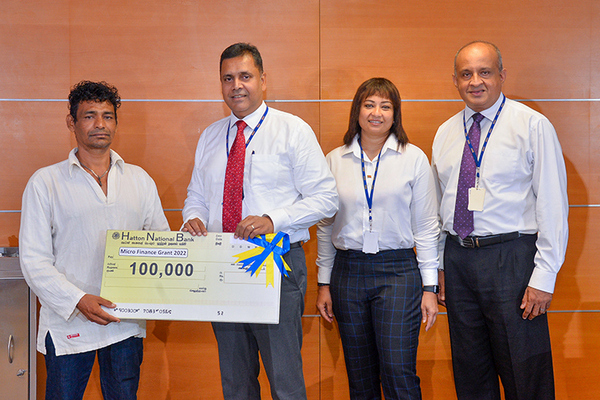 HNB DGM Retail and SME Banking Sanjay Wijemanne presenting the grant to a MSME Customer P R N T M Bandara from the HNB Athurugiriya Customer Center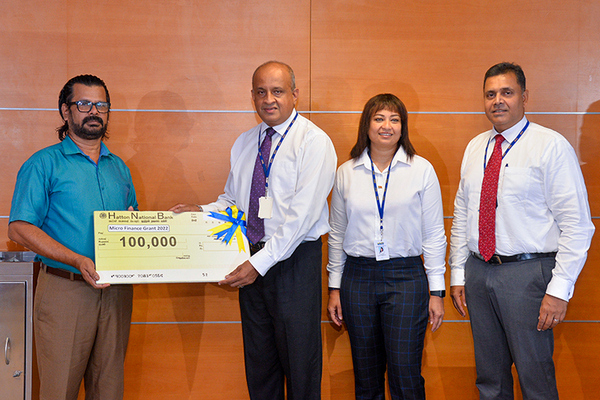 HNB Head of Microfinance, Vinodh Fernando presenting the grant to a MSME Customer M K A Siriwardena from the HNB Battaramulla Customer Center