HNB Chief Transformation Officer L. Chiranthi Cooray distributing dry rations to members of the Welfare Society of the Blind Women as HNB Managing Director and CEO, Jonathan Alles and Executive Director/Chief Operating Officer Dilshan Rodrigo watch on
Donates 300 white canes to blind women
Distributes 300 dry ration packs to members of the society
Supporting the livelihoods of visually impaired women, Sri Lanka's most customer friendly bank HNB PLC donated 300 white canes and dry ration packs to the members of the Sri Lanka Welfare Society of the Blind Women.
The donations made utilizing voluntary contributions gathered by HNB employees, were handed over to members of the Society at a special event at HNB Towers under the patronage of HNB Managing Director and CEO Jonathan Alles.
"HNB is proud to partner with the Sri Lanka Welfare Society of the Blind Women to serve the visually impaired women of the country. Our goal is to do our part in ensuring they are given opportunities, recognition and respect that are equal to every other citizen, and we hope that partnerships of this nature will pave the way for a more inclusive and caring society," HNB Managing Director and CEO, Jonathan Alles said.
With 252 customer centres across the country, HNB is one of Sri Lanka's largest, most technologically innovative banks, having won local and global recognition for its efforts to drive forward a new paradigm in digital banking. Over the recent past, the bank was ranked among the World Top 1,000 Banks list compiled by the prestigious UK-based Banker Magazine. HNB has a national rating of AA- (lka) by Fitch Ratings (Lanka) Ltd.
HNB was also declared Best Sub-Custodian Bank in Sri Lanka at the Global Finance Awards 2020, in addition to winning the coveted Best Retail Bank in Sri Lanka Award for the 11th time at the Asian Banker Awards 2020, in recognition of its sustainable growth and continuous improvements in processes, products and services amidst a challenging macroeconomic environment.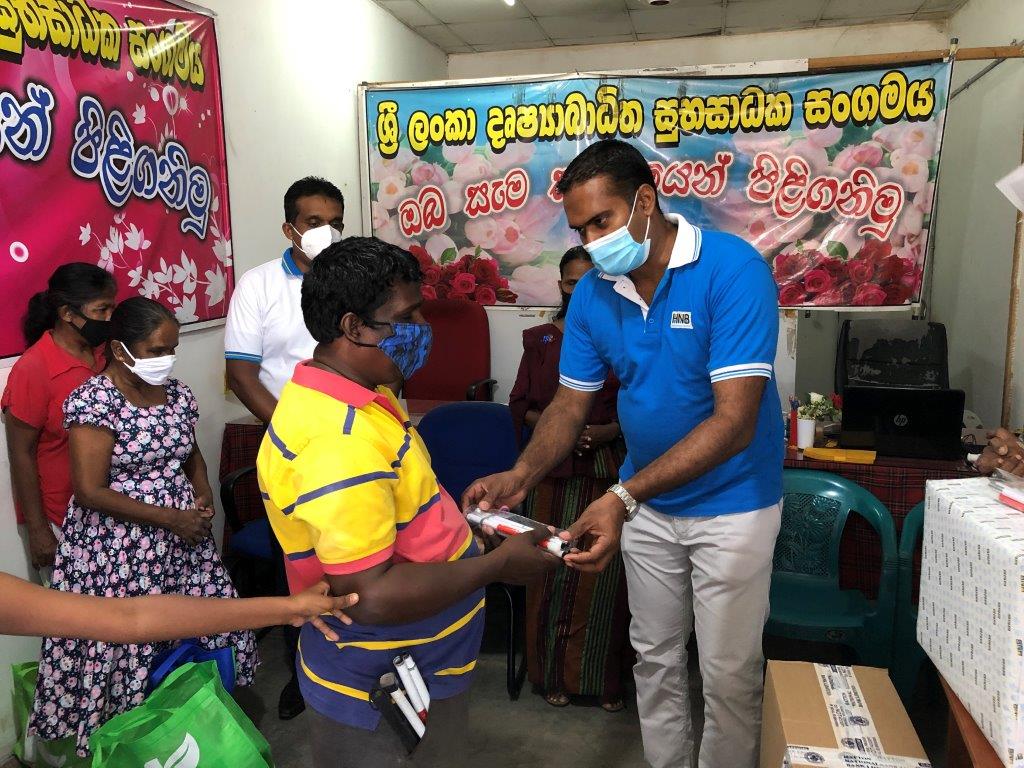 HNB Seeduwa Customer Center Manager, Ranil Peiris handing over white canes to members of the society. HNB Officer in Charge – Sustainable Business, Shanel Perera also in the picture