Governor Central Bank opens HNB's newest mini customer centre at Department of Immigration and Emigr
Governor of the Central Bank of Sri Lanka, Ajith Nivard Cabraal (far left) together with HNB Managing Director / CEO Jonathan Alles handing the pass book to the first customer at the mini customer centre Hasindu Madumal
To facilitate hassle free banking through formal channels, particularly for migrant labour, Sri Lanka's leading private-sector bank HNB PLC, announced the opening of its newest mini customer centre at the Department of Immigration and Emigration in Battaramulla.
HNB's mini customer centre at the Passport office will offer migrant workers access to banking services such as the encashment of foreign remittances, and opening Rupee and foreign currency accounts. Customers also have the option of transferring cash and making use of banking facilities through HNB's mobile banking app and digital wallet SOLO.
Declared open by the Governor of the Central Bank of Sri Lanka (CBSL) Ajith Nivard Cabraal together with HNB Managing Director/CEO, Jonathan Alles and senior officers, the mini customer centre is expected to provide prospective migrant workers with safe, efficient and reliable formal channels to send funds back home. 
"Worker's remittances has been Sri Lanka's largest single source of foreign exchange inflows over the past decade. Especially during the pandemic, Sri Lankans across the globe have continued to send funds home to their loved ones who depend on this income to pay for their daily essentials, and for funding education. The pandemic has disrupted these systems, and led to an increase in the use of informal channels that are far less secure.
"The opening of this new mini customer centre is the latest in a series of measures HNB is launching, in support of the Central Bank's efforts to help streamline access and performance of formal remittance networks, in order to ensure that the nation's migrant workers have the access to a safe, secure and efficient option when sending their hard-earned income home. As such we are delighted to be opening a mini customer centre at the Department of Immigration and Emigration under the auspices of the CBSL," HNB Managing Director / CEO Jonathan Alles said.
Open for business on weekdays from 9 a.m to 3 p.m, the new centre is equipped to provide digital and customized banking services, ideally suited for prospective migrants and will come under the purview of the HNB Talangama customer centre.
HNB Remittance services offer customers convenience and security to transfer funds through the bank's worldwide network of partners in every populated continent. HNB's global network consists of more than 130 tie-ups with renowned exchange houses and banks across the world, where deposits could be made in 13 designated foreign currencies, along with LKR.
The bank provides several disbursement options for recipients to conveniently access foreign remittances. The bank facilitates cash pick-up over its branch counters spread across the island and encashment through ATMs using the 'Card-less remittance withdrawal facility' across 780+ ATMs. HNB also credits remittances to any other local bank account immediately. To ensure seamless delivery, the bank processes remittance transactions on a 24x7 basis throughout the year.
About HNB
With 254 customer centres across the country, HNB is one of Sri Lanka's largest, most technologically innovative banks, having won local and global recognition for its efforts to drive forward a new paradigm in digital banking. Consolidating its reputation for banking excellence, HNB bagged the Best Retail Bank and Best SME Bank awards in the Banking category at the International Finance Awards 2021. The bank was also ranked among the World Top 1,000 Banks list compiled by the prestigious UK-based Banker Magazine for five consecutive years. HNB was also declared Best Sub-Custodian Bank in Sri Lanka at the Global Finance Awards 2020. HNB has a national rating of AA- (lka) by Fitch Ratings (Lanka) Ltd.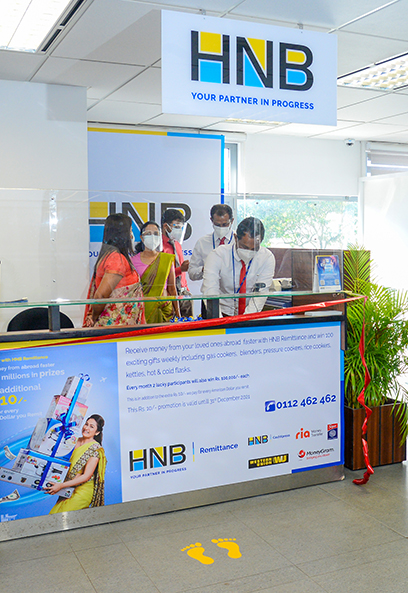 The new HNB mini customer centre at the Department of Immigration and Emigration