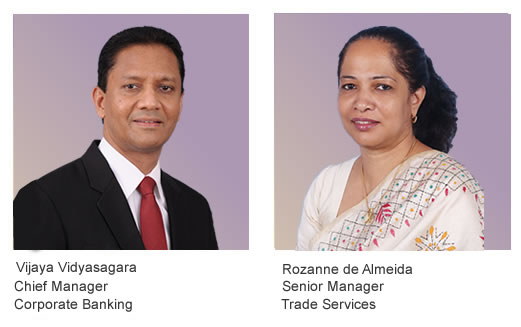 Ranked for the second consecutive year 'Market Leader' and 'Best Service Bank in Cash Management in Sri Lanka' at Euromoney Awards
Sri Lanka's leading private sector bank, HNB, continued to extend its dominance over the domestic cash management business, having once again been recognized as 'Market Leader in Cash Management' and 'Best Service in Cash Management' in Sri Lanka for the year 2019, at the recently concluded Euromoney Magazine Cash Management Survey.
Euromoney Magazine is recognized globally as the most influential financial magazine and a leading authority on finance, banking, investment, and treasury and is read and trusted by the world leading companies, bankers, brokers, investors, regulators and policy makers.
Commenting on the bank's remarkable performance at this year's awards, HNB's Deputy General Manager, Corporate Banking, Ruwan Manatunga said, "HNB continues to excel and dominate in providing world class Cash Management solutions to corporates and these two prestigious awards from Euromoney is a testament of the Bank's excellence in providing its corporate customers best in class solutions in the market. This has been accomplished through concerted investments in cutting edge technologies, aimed at ensuring the Bank's product depth and service offering is the best in the market."
Manatunga went on to add that the Cash Management solutions of HNB has helped raise the bar in service standards of the banking industry.
Euromoney magazine ranks providers of cash management services on a global, regional and country level based on an annual survey of over 25,000 corporate cash managers, treasurers and finance officers worldwide. The Cash Management award is based on an independent survey whereby corporates are given the opportunity to rate the quality of the service provided by their local and multinational relationship banks across products and services.
In that regard, Manatunga further emphasized that: "Today HNB is the most awarded bank for cash management in Sri Lanka. This is the second consecutive year that HNB has received this accolade from Euromoney, in addition to having won similar awards from Asiamoney and Asian Banker for two years running. All these awards from internationally acclaimed institutions are a testament to HNB's market leadership position and the value that corporate customers place in the Bank's cash management business.
Manatunga concluded by stating that, "HNB is extremely proud of its skilled and dedicated teams, whose passion and hard-work to out-perform the market has enabled the bank to excel at these awards and we will further invest in these businesses in the years to come with the aim of continuing to provide best in class banking solutions."
HNB is the first local bank to offer a web-based, fully integrated Payments and Cash Management (PCM) platform – HNB Online. The bank, leveraging on this state-of-the- art platform along with a dedicated business team that is considered the best in the industry, has within a short period of time achieved significant success in securing a leadership position in cash management, which was previously a captive business of the multinational banks.
Corporates using HNB Online have real time control over their day to day management of collections, payments and liquid investments whilst enterprise-level clients have the ability to integrate HNB Online directly with their Accounts Payables and Accounts Receivables of their Enterprise Resource Planning (ERP) systems such as SAP and Oracle. HNB's electronic banking platform not only caters to payments and collection solutions but also offers a comprehensive online trade platform to support international trade finance business, while the cash management offering covers corporates, ranging from multinationals, large local conglomerates, mid-market enterprises, financial institution groups and non-banking financial institutions.