HNB - Indra Traders team up for special offers on unregistered vehicles and Foton trucks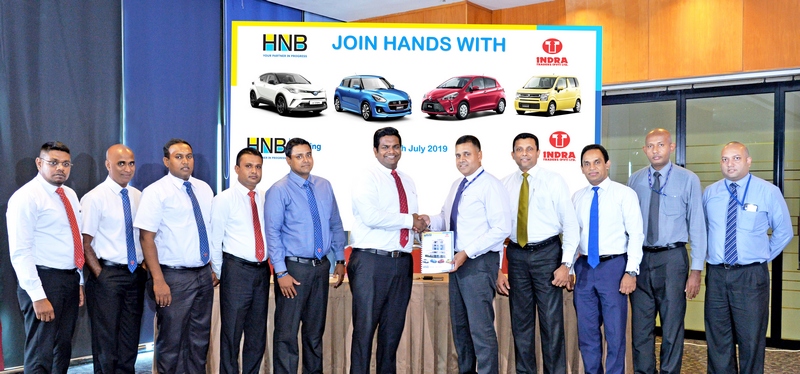 Picture from Left; Mylvaganam Dharshan, Sales Manager, Indra Traders, Rasika De Silva, Senior Sales Manager, Indra Traders, Tuan Ossen, Sales Manager - Foton Trucks, Indra Traders, Saleela Rajapaksha, Regional Sales Manager, Indra Traders, Mahesh Palihakkara, Assistant General Manager, Indra Traders, Hashindra Silva, Director Sale & Marketing, Indra Traders, Sanjay Wijemanne, Deputy General Manager, Retail Banking, HNB, Kanchana Karunagama, Head of Personal Financial Services, HNB, Niluka Amarasinghe, Senior Manager, Leasing, HNB, Roshan De Silva, Assistant Manager, Leasing. HNB and Mahesh Ratnayake, Executive-Business Development (HNB Leasing)
Sri Lanka's leading private sector bank, HNB PLC teamed up with Indra Traders to offer exciting leasing packages for all unregistered vehicles and Foton trucks, made available by the local automobile giant.
The agreement was finalised at HNB Towers in the presence of HNB's Deputy General Manager, Retail Banking, Sanjay Wijemanne and Head of Personal Financial Services, Kanchana Karunagama along with Indra Trader's Director Sales and Marketing, Hashindra Silva, Assistant General Manager, Mahesh Palihakkara and Sales Manager Saleela Rajapaksha.
"There has been a noticeable increase in the number of vehicles purchased by Sri Lankans. Over the past year, vehicle registrations increased by 6.45% despite challenging market conditions, indicating that there is a very strong demand for vehicle ownership in the local market" said Sanjay Wijemanne.
Wijemanne went on to note "This partnership with Indra Traders allows us the opportunity to offer our customers affordable leasing packages, customized to suit their needs, be it commercial or personal vehicles."
Customers availing themselves of the promotion will be entitled to special reduced interest rates in addition to a free life insurance cover of Rs. 4 million. The insurance is also anchored to discounted premiums from HNB General Insurance and a free credit card with the first annual fee waived off.
Moreover, HNB customers also have the option of choosing either a structured or residual leasing facility, to better suit their budget, with minimal documentation, personalized service and doorstep assistance.
"We are pleased to partner with HNB to offer affordable leasing packages inclusive of concessionary interest rates, benefits and our excellent after sales service through this promotion," Indra Traders' Director Sales and Marketing, Hashindra Silva said.
Indra Traders will offer HNB customers a special price scheme plus 2 services free of labour costs and further include a door wiser, carpets, reverse camera and a DVD player for every vehicle purchased within the promotion period
Inaugurated in 1975 Indra Traders has diversified to a variety of business segments in the automobile industry. A supplier of high quality motor vehicles and related services, Indra traders today stands as not only a supplier of high quality vehicles, but also a transport solutions provider.