Picture Shows Jonathan Alles Managing Director / CEO HNB, handing over the overall champions' trophy to Damith Wickramasinghe, Sanjay Wijemanne, Deputy General Manager, Retail Banking, HNB and Sanjiv Vairavanthan, President RCGC is also in the picture
Damith Wickramasinghe and Niloo Jayatilake clinch top awards,
Strong youth showing for First-ever Junior Divisions with over 42 participants,
More than 80 participants for HNB Customer events
The 11th annual HNB Millennium Trophy Golf Tournament - a premier Sri Lankan golfing competition for enthusiasts and HNB customers - reached a grand conclusion at the Royal Golf Club in Colombo recently.
Sponsored by Sri Lanka's leading private sector bank, the tournament was open to all full members of the club and loyal HNB customers. Attracting an unprecedented participation of over 240 men and women of all ages, the tournament saw over 42 youngsters competing fiercely in the first-ever Junior Divisions.
Damith Wickramasinghe was crowned the overall champion in the men's category with an aggregate net score of 138 over the two days while Gihan Wickramasinghe emerged Runner up with a net score of 138 points as well.
In the Junior Open Golf Championship for HNB customers, Samika Wickramanayake was crowned the winner of the Silver Division with 96 Gross points, while Chethana Perera was named the Runner up with 99 Gross points. Furthermore, Reshana Algama was crowned winner of the Bronze Division with 34 Gross points while Keshan Algama was named the Runner up with 39 Gross points.
The special HNB customer events had close to 80 participants playing with Sanjiv Vairavanthan adjudged the top winner of the HNB customer event at the HNB Millennium Trophy Golf Tournament 2019, and Tyronne Weerakody was the Runner up.
Addressing a sizeable gathering at the tournament's prize-giving ceremony, HNB Managing Director/CEO, Jonathan Alles stated: "It has been extremely encouraging to see the enthusiastic and determined efforts of our youngest competitors in this year's HNB Millennium Trophy Golf Tournament. I believe that based on the performances we have seen, the future of golf in Sri Lanka looks quite promising. We are proud to be associated with this prestigious event for 11 years and we pledge to continue as a trusted partner in progress for the Royal Colombo Golf Club for many years to come."
Meanwhile in the HNB Customer Junior Open Golf Championship, Sherin Balasuriya and K. Danushan were named the winner and Runner up respectively, with 73 and 84 Gross points each in the Silver Division. Kaya Daluwatte was the winner of the Bronze Division with 39 Gross points, while Aneesha Deckker was named the Runner up with 40 gross points.
Several ladies who are full members of RCGC competed with Niloo Jayatilake crowned the Overall Winner in the ladies' category. In the Silver Division, Sharon Hall clinched the winner's title with 33 points, and Yun Jeong Choi secured the Runner up title with 38 points. In the ladies Bronze Division Misako Tanaka was named the winner with 38 points, while Dinoo De Mel clinched the Runner up title with 38 gross points over the two days.
The inaugural Millennium Golf Trophy Tournament, which has been allocated the status of a board event, was first conducted in 2001 to commemorate the massive refurbishment and development program undertaken for the first time at the Royal Colombo Golf Club after over a century in existence.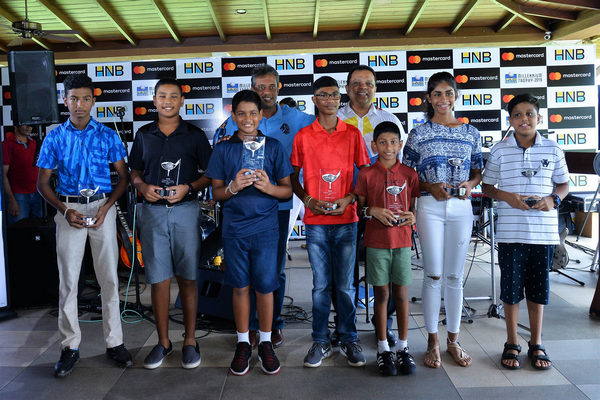 Junior Championship winners with Jonathan Alles Managing Director / CEO HNB and Sanjiv Vairavanthan, President RCGC