HNB joins hands with Sathosa Motors for Mega Leasing Promotion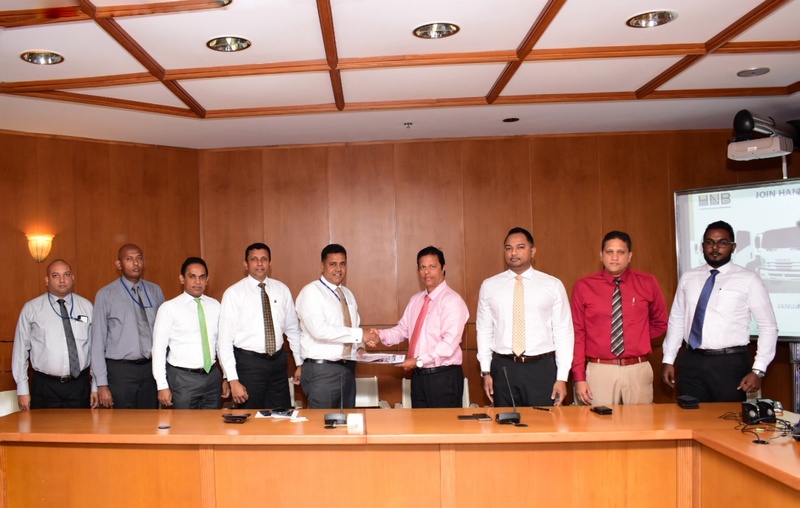 Picture from L - R Mahesh Ratnayake, Executive-Business Development (HNB Leasing). Roshan De Silva-Assistant Manager-Leasing. HNB, Niluka Amarasinghe,Senior Manager Leasing,HNB, Kanchana Karunagama, Head of Personal Financial Services, HNB, Sanjay Wijemanne, Deputy General Manager -Retail Banking, HNB, Deshamanya Tilak Gunasekera, Managing Director,Sathosa Motors PLC,Eshan Coorey, Director / COO,Sathosa Motors PLC,Dirk Josua, General Manager, Sales and Marketing,Sathosa Motors PLC and Lasitha J Vijayakumar, Manager New Vehicle Sales & Marketing,Sathosa Motors PLC
HNB Leasing and Sathosa Motors PLC have renewed their partnership of 14 years to finance a range of commercial vehicles, to provide added benefits and facilities to HNB's Small and Medium Enterprise (SME) customers.
Effective from now until March 31st, the promotion will enable HNB customers to special discounts, waived off registration fees, a free life insurance cover of Rs. 4 million for vehicle insurance premiums from HNB General Insurance.
Available at HNB customer centres island-wide, the facility presents customers with the opportunity to purchase commercial trucks and heavy vehicles at special rates with the added benefit of a free insurance cover and credit card facilities with the first year fees waived off. Specially formulated leasing packages will also be offered along with a discount of LKR 25,000 on the entire range of Isuzu commercial vehicles from Sathosa Motors.
"Isuzu is a market leader in commercial vehicles with a concrete customer base in the SME sector across Sri Lanka. As  financial partners committed to enhancing businesses and business interests of our customers we are excited to offer HNB  Leasing customers a convenient, affordable, and efficient pathway to owning their own Isuzu., " HNB Senior Manager, Leasing, Niluka Amarasinghe said.
The long-standing partnership offers a plethora of special leasing, insurance,and credit card facilities for the full range of Isuzu automobiles including the Commercial Truck N series, F series, and Double Cab D max at special prices complete with additional benefits through spot promotions at the time of purchase.
"We are happy to partner with HNB in order to provide our mutual group of customers with valuable support to develop their businesses. A vast majority of our customers are scattered across the country working in industries related to transportation and logistics. We are pleased to renew our partnership with HNB to further empower our customers and support growth across the country, "Sathosa Motors COO/ Director Eshan Coorey said.
Sathosa Motors has become the first company in SL to offer the Euro 4 Emission Standard in trucks plus standard warranty of 4 years on heavy trucks.
Operating across 251 branches island-wide HNB today stands as Sri Lanka's largest, most successful and most innovative private sector commercial bank. The bank continues to win local and international accolades in recognition of its outstanding efforts in building a new paradigm of a digitally empowered banking experience in Sri Lanka.
HNB was recognised by the prestigious Banker Magazine as one of the Top 1,000 banks in the world and is also the highest ranked local bank in this listing. For the year 2017, the Banker Magazine awarded HNB as Bank of the Year. In addition, HNB was also awarded by Asian Banker as the Best Retail Bank in Sri Lanka for 2017, which is the 10th time the Bank has received this award.