HNB – AAC partner to offer motorists exclusive leasing facilities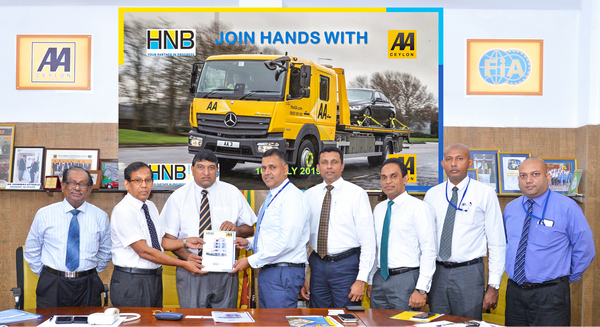 From left: Anton Kandiah, Consultant Automobile Association Ceylon, Devapriya Hettiarachchi, Secretary, Automobile Association Ceylon, Dhammika Attygalle, President, Automobile Association Ceylon, Sanjay Wijemanne, Deputy General Manager, Retail Banking, HNB, Kanchana Karunagama, Head of Personal Financial Services, HNB, Niluka Amarasinghe, Senior Manager, Leasing, HNB, Roshan De Silva, Assistant Manager, Leasing, HNB and Mahesh Ratnayake, Executive-Business Development (HNB Leasing)
Sri Lanka's leading private sector bank, HNB PLC announced the launch of an exclusive partnership with the Automobile Association of Ceylon (AAC) to offer motorists special leasing packages inclusive of discounted annual and lifetime membership fee and a slew of other benefits over a limited time period.
The promotion which is to last from June through December 2019, was launched at AAC Headquaters in Colombo 3, in the presence of Sanjay Wijemanne, Deputy General Manager, Retail Banking, HNB and Dhammika Attygalle, President, Automobile Association of Ceylon. The special facility offers customers and existing AAC members a range of specialized services including the International Drivers Permits offered by the AAC at discounted prices..
"Our relationship with the AAC is by no means a new one. As a registered valuer for HNB, the Association has earned our trust through the submission of a number of valuation reports over a number of years. Therefore, we are only happy to enhance our relationship further through this partnership and ensure that our customers and AAC members have the opportunity to make use of the exclusive services and products available for a limited time period," HNB Senior Manager, Leasing Niluka Amarasinghe said.
HNB will offer members special interest rates, 0.5% reduction from the published rate, in addition to discounted insurance premiums for vehicles through HNB General Insurance with a Life Insurance Cover of Rs. 4 million. Members are also entitled to a special HNB Leasing credit card with the first annual year fee waived off.
The leading private sector bank will also bear 50% of the first-year annual membership fee for the Automobile Association, for the first 100 HNB Leasing credit cardholders making use of the promotion.
"This partnership ensures that our members can avail themselves of special financial services and products for motorists offered by HNB. Therefore, we are happy to further cement our existing relationship with the leading private sector bank to offer our mutual member base access to a number of specialized services and products offered by us," AAC President Dhammika Attygalle said.
The AAC will offer motorists making use of the promotion special discounts on services, expertise and products such as 24× 7 emergency road assistance, technical advice/assistance, holiday bungalows, welfare & recreational facilities, towing facilities, registered driver services, car washing, discounts on tyres, batteries & insurance in addition to the drink & drive chauffer service.