For a bank that is deeply rooted in the traditional, HNB has been bravely leading the charge on digital innovation in Sri Lanka's banking industry. Having rapidly ascended to new heights of success, becoming the most profitable banking group in Sri Lanka, and rising to the top ranked Sri Lankan bank in the Banker Magazine UK's Top 1000 banks in the world, HNB continues to draw attention for its bold, transformative approach to banking.
HNB Chief Strategy Officer / Assistant General Manager – Strategy, Rajive Dissanayake explains the rationale behind the major transformation taking place at HNB and highlights some of the unprecedented initiatives taken by the bank in driving its bold vision for a new paradigm in Sri Lankan banking.
Q: How has HNB's strategy evolved in order to produce value for all stakeholders?
A: In the past, I would say that our strategy was primarily focused on building and consolidating our physical branch network and building a space for ourselves in every corner of the island where our customers could come to find us and carry out their banking. In many ways, this is the continuing strategy of the bank, however this journey has undergone drastic evolution over the recent past.
Today, HNB stands as Sri Lanka's most digitally innovative bank, seeking to strike an optimal balance between investments into building the knowledge and skills of our people while making parallel large-scale investments into cutting-edge technologies as part of a bold and ambitious plan which we have dubbed HNB's Vision 2020.
If we were to try and distil everything that this plan aims to achieve into a single phrase it would be: value creation. Everything that we are working on today is being implemented in order to create value to our customers across different spectrums while developing our employees in order to unleash their true potential and thereby creating sustainable shareholder wealth.
Innovation is a core pillar of our digital strategy and as of now, HNB has already launched multiple ground-breaking, tech-enabled products and services including the HNB FIT Savings Account – currently Asia's first and only fitness linked savings product.
Similarly, we have also worked to introduce biometric technology to schools through our Near Field Communication (NFC) enabled Smart Pay cards which are already revolutionizing how attendance and other data is recorded in schools, while giving school children exposure to cashless payments for the first time, and providing peace of mind to parents in monitoring and controlling their children's spending at school.
These customer facing innovations have been further bolstered by internal initiatives aimed at centralizing administrative processes from the branches into dedicated centres operating out of the HNB Head Office. By streamlining credit underwriting and other basic functions, we have freed up our branch teams to focus on driving client engagement, boosting sales and offering personalised service to every customer.
HNB's strategy and vision for itself and the Sri Lankan banking industry is a bold one, however we continue to make excellent progress, and particularly over the recent past, and we are starting to see tangible results from our investments. Today, our service is more responsive, our products and services more accessible and innovative than anything else in the market. These improvements ultimately lead to increased shareholder value. Hence at every level, be it for our customers, our employees, our shareholders, or the wider industry and economy, HNB aims to play a pivotal role in shaping the development of this nation and all of its citizens..
Q: How does HNB align its shareholders and investors to its Vision ?
A: Every step that we have taken, and plan to take in future is always subject to extensive analysis to understand how we can generate meaningful value to each of our stakeholder groups. While we must always be practical and weigh our actions in a manner that ensures value for our shareholders, our belief is that while it is possible to maximize this value purely over the short term, it is not a viable way of conducting business. Ultimately our shareholders gain more when all our stakeholders gain more from our business model, hence HNB continues to drive an approach to banking that prioritizes innovation and sustainability.
Q: How important is it for the bank to engage with its stakeholders?
A: Absolutely vital long term shareholder wealth creation goes beyond just financial performance to encapsulate adopting best in class governance standards as well as adopting a transparent communication policy with all our stakeholders. Our investor relations function is designed to ensure that we achieve this objective of being consistent and transparent in our communications with all our shareholder and investors. We engage our shareholders and investors through multiple channels such as investor forums, webinars, one on one meetings as well as through other print and electronic platforms.
HNB has consistently been recognized for its investor relations function where the Bank has featured among the top three in four occasions since "Best Investor Relations" award was introduced by CFA Sri Lanka Society six years ago. This year HNB was awarded Runners Up for it investor relations function among all the listed companies in the Colombo Stock Exchange.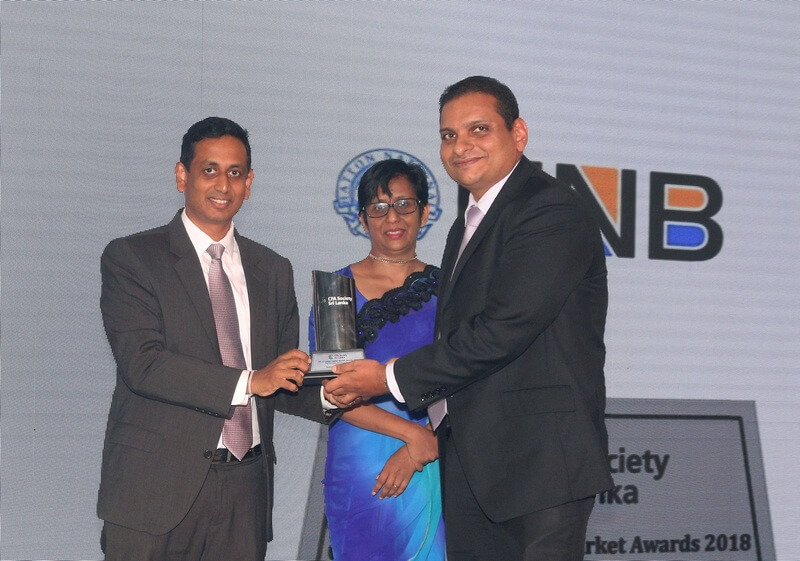 Picture shows, HNB Chief Strategy Officer, Rajive Dissanayake accepting the award from Nayana Mawilmada, Chief Guest of the event, for its investor relations function among all the listed companies in the Colombo Stock Exchange. Rachini Rajapakse, President CFA Sri Lanka Society is also in the picture.