HNB partners with Prestige Automobile Group to offer special deals for BMW vehicles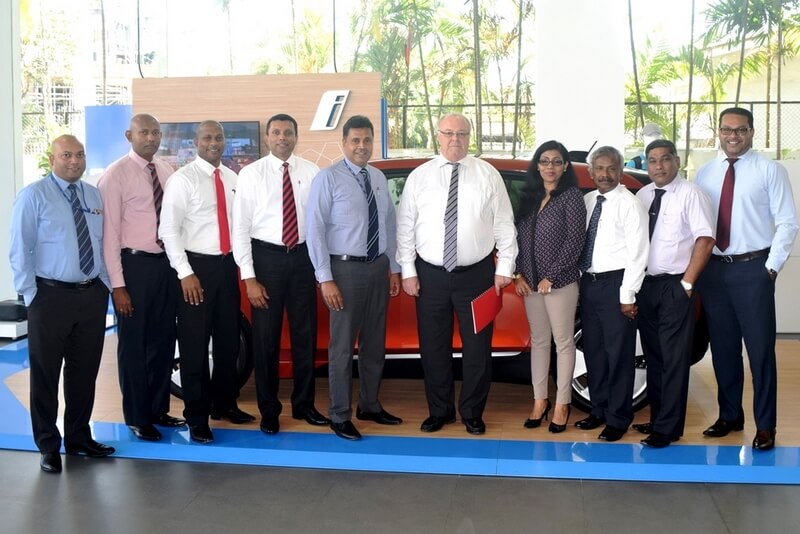 Picture from L-R Mahesh Ratnayake, Executive-Business Development (HNB Leasing). Roshan De Silva-Assistant Manager-Leasing. HNB, Nalin Dissanayake, SeniorManager, Leasing, HNB, Kanchana Karunagama, Head of Personal Financial Services, HNB, Sanjay Wijemanne, Deputy General Manager -Retail Banking, HNB, Hainz Reuter – Chairman / Managing Director, Prestige Automobile, Viola Karunaratne – Director HR, Prestige Automobile, Bandula Sirimanna, Group Director Finance, Prestige Automobile, Laksiri De Silva, General Manager-After Sales, Prestige Automobile and Niranga Peiris, Director – Sales and Marketing – BMW, Prestige Automobile.
Sri Lanka's premiere retail bank, HNB PLC announced a new partnership with sole authorized agents of BMW vehicles in Sri Lanka, The Prestige Automobile Group to offer special deals for the bank's aspiring BMW owners.
"As Sri Lanka's largest and most successful retail bank, we consider it a great honour to partner with Prestige Automobile. As the sole authorized agents for BMW, Prestige Automobile has consistently developed a trusted reputation in Sri Lanka and we see many parallels between our two organisations.
"Given the remarkable legacy of excellence in engineering that BMW has developed, the brand has an extremely strong and loyal customer base in Sri Lanka and of course among our own sizable and growing HNB customer demographic. Hence we are excited to offer HNB Leasing customers a convenient, affordable, and efficient pathway to owning their own BMW," HNB Senior Manager – Leasing, Nalin Dissanayake said.
Following the signing of a Memorandum of Understanding (MoU) between the two organisations, HNB customers can now avail themselves of special leasing packages open on all BMW vehicles retailed by Prestige Automobile including access to extremely comfortable terms that can be structured to suit a customer's preference including special interest rates, attractive pricing and leasing facilities along with an insurance cover and more.
Backed by an unblemished reputation for the highest quality service as one of Sri Lanka's leading provider of internationally renowned automobile brands that has been built up over two decades of operations in Sri Lanka, Prestige Automobile prides itself on maintaining the same global standards BMW is reputed for and is able to provide its customers with an internationally-acclaimed brand with superior after sales services, conducted by BMW-certified technical staff.
"Prestige Automobiles has grown from strength to strength and we therefore are greatly pleased to mark another important milestone in our journey through today's partnership with HNB. By forming strong relationships with organizations as respected as HNB, we are able to engage more closely with HNB's substantial leasing customer base," Prestige Automobile Chairman/ Managing Director, H. A Reuter explained.