Picture (L-R) Niluka.T.Amarasinghe, Senior Manager-SME Business Development, HNB, Dammika jayawardena, Additional Director General-EDB, Janath Ilangantileke, Assistant General Manager –Trade & Financial Institutions, HNB, Jude Fernando, Deputy General Manager, SME & Midmarket, HNB, Suneth Wijesinghe, Director-27th lane Business Hub (Pvt) Ltd, Lucy Schulze - Project Executive Delegation of German Industry and Commerce in Sri Lanka and few customers who obtained membership are also in the picture
Sri Lanka's most digitally innovative bank HNB PLC announced the launch of a new support services platform to drive scalable Exports and Enterprise Resource Planning (ERP) solutions to meet the requirements and aspirations of Sri Lanka's burgeoning Small and Medium Enterprise (SME) sector.
The launch of both new platforms were formalised of MOUs signed between HNB and with Bileeta (Pvt) Ltd - an establishment specialized in providing ERP for SMEs - and 27th Lane Hub (Pvt) Ltd – a firm which serves as a vibrant portal for the introduction of export opportunities for Sri Lankan SMEs across Germany and the European Union.
"Today's MOU between these two respected companies and HNB represents an important milestone for our nation's SMEs. Over the years we have consistently worked to empower these enterprises with access to finance and other vital support services.
The addition of ERP solutions and export access is therefore another bold advancement that we are confident will open up new avenues for rapid growth and development of Sri Lankan SMEs," HNB Deputy General Manager- SME & Midmarket, Jude Fernando stated. said.
"The 'Intuition' ERP software introduced by Bileeta (Pvt) Ltd will further expand SME technological capabilities by narrowing down the complexities of daily operations to a click of a button.
Meanwhile, HNB's partnership with the 27th Lane Hub (Pvt) Ltd unveils widespread export opportunities for export indigenous products, food products and many more. The advisory services provided to support the value chain development of the product or service creation, Support for obtaining certifications/Standards for German markets, Fair trade, packaging ideas are other benefits the potential exporters would enjoy.
"What is unique at HNB is that we don't concentrate solely on financing established, ongoing businesses. Instead, we work to identify people from the grass root level upwards and reach out to them individually to understand their requirements and support their growth through the delivery of microfinance services that are augmented with extensive advisory services to ensure that these businesses are assured of a sustainable growth trajectory," he explained.
The bank continues to place a substantial emphasis on bolstering financial awareness through the hosting of regional workshops that educate SME owners and other entrepreneurs on economic trends, growth opportunities in the micro and SME sector, and provide guidance on adapting cutting edge technologies to drive improved business performance.
HNB's emphasis on developing Sri Lanka's SME sector continued at a strong pace through 2018. During the year, the bank launched a specialised SME Business card facility, and SME export loan schemes in partnership with the Export Development Board, in addition to hosting numerous financial and business training workshops across the island.
Operating across 251 branches island-wide HNB today stands as Sri Lanka's largest, most successful and most innovative private sector commercial bank. The bank continues to win local and international accolades in recognition of its outstanding efforts in building a new paradigm of digitally empowered banking in Sri Lanka.
Since making its first appearance on the prestigious Banker Magazine's list of Top 1,000 banks, HNB has today soared the top of the list among Sri Lankan banks in addition to being recognized as Bank of the Year 2018 and being awarded Best Retail Bank in Sri Lanka for the 10th time at the Asian Banker Awards.
HNB also stands as the most profitable private banking group in the country, maintaining a strong and growing presence across retail, corporate and Micro and SME sectors, extending cutting edge banking and financial services to a wide range of clients.
HNB's leadership in technology was most recently recognized with the Bank's ATM network being awarded the 'Best ATM Network of the Year' at the Lanka Pay Technovation Awards 2017. Additionally, HNB was also awarded Best SME Bank, Best Digital Bank and Best Cash Management Bank at the Asiamoney Country Awards while the International Finance Magazine presented HNB with the award for Most Innovative Microfinance Bank in Sri Lanka.
HNB also stands as the first local Bank in Sri Lanka to receive an international rating on par with the sovereign from Moody's Investor Services while maintaining a national long term rating of AA - (lka) from Fitch Ratings Lanka Ltd.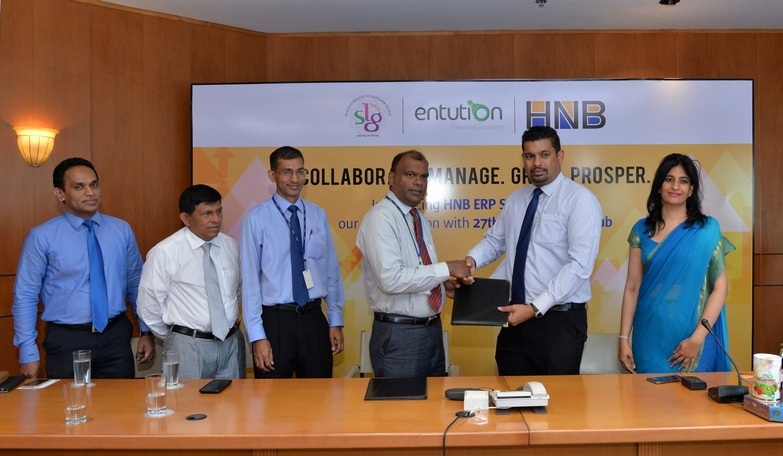 Picture (L-R) Niluka.T.Amarasinghe, Senior Manager, SME Business Development ,HNB, Dammika Jayawardena, Additional Director General, EDB, Janath Ilangantileke, Assistant General Manager –Trade & Financial Institutions, HNB, Jude Fernando, Deputy General Manager, SME & Midmarket, HNB, Sanji De Silva, Chief Executive Officer, Bileeta(Pvt) Ltd and Harshani Amarasekera of Bileeta (Pvt) Ltd