HNB Al Najah Sweeps Gold for "Islamic Entity of the year" award at the SLIBFI Awards
Ambassador for Indonesia, I Gusti Ngurah Ardiyasa presenting the Gold Award for Best Islamic Banking "Entity of the Year" to HNB Managing Director/CEO, Jonathan Alles
Hatton National Bank's Islamic Banking, Al Najah was recognized for the significant contribution to the Islamic banking industry and the community at large at the recently concluded "Sri Lanka Islamic Banking and Finance Industry" (SLIBFI) award ceremony. HNB's Al Najah carried away 3 accolades, including the coveted 'Entity of the Year' award, along with Gold for 'Window Unit' of the year and Silver, for 'Islamic Finance Deal' of the year for 2017.
Managing Director/CEO, Jonathan Alles, Deputy General Manager, Corporate Banking Ruwan Manatunga, Assistant General Manager, Head of HNB Al Najah, Hisham Ally, Head of Project Finance, Majella Rodrigo and the staff of Al Najah represented the glittering ceremony at Ramada Hotel Colombo. The SLIBFI awards recognize individuals and institutions that have made significant contributions to the Islamic Banking and Finance Industry in the past year. An independent panel of judges consisting of prominent Corporate and Islamic Banking personalities under the guidance of KPMG, assisted in the final adjudications.
Upbeat on the win, Hisham Ally who heads Al Najah, emphasized the importance of great team-work in achieving such awards. "2017 has been the best year Al Najah has ever had, thanks to my wonderful team who have been relentlessly working to be the best. Being able to reach phenomenal heights in Islamic banking industry in Sri Lanka is thrilling", he stressed.
Notably, HNB Al Najah, launched 6 years ago has enjoyed an upward streak, winning several awards and accolades and firmly establishing itself as a strong entity in the country.
This year's win further solidifies the previous year's recognitions including the Gold award for Islamic Finance Window/unit of the year, Gold award for Islamic Finance Deal of the year, and the Bronze award for Islamic Finance Entity of the year and another Bronze award for Rising Islamic Finance Personality of the year.
Deputy General Manager Corporate Banking, Ruwan Manatunga congratulated Hisham Ally on leading a dynamic team to achieve tremendous success. "I am confident that Al Najah will be a trend setter in Islamic Banking in Si Lanka", he added.
The Islamic Banking of Hatton National Bank Plc – Al Najah was established in 2012 under the able stewardship of Mr Hisham Ally, himself a pioneer in the Islamic banking sphere in Sri Lanka. Al Najah entered the market amidst stiff competition having the advantage of being part of one of the largest commercial banks in Sri Lanka. Progress has been evident year on year with stellar performances articulated in the financials. Al Najah has come to a state where it has become the most profitable entity among all the Islamic financiers in Sri Lanka.
On the achievement, Managing Director /CEO of HNB, Jonathan Alles congratulated the Al Najah team for their contribution towards its success. "Islamic financing has much potential in our country and we are happy to be playing a vital role in its reach throughout the Island".
About HNB Al Najah:
HNB has a dedicated state of the art customer centre for Islamic Banking business, which serves all customers and renders all banking operations. Located on Marine Drive in Colombo 3, the centre comes with facilities such as cash operations, remittances, ATMs (including cash deposit option) and ample vehicle parking space, serving customers across the length and breadth of this Country. This is in addition to its operations in Eastern (Kalmunai Unit) and Central (Kandy Unit) Region as well as the financial hub of Pettah.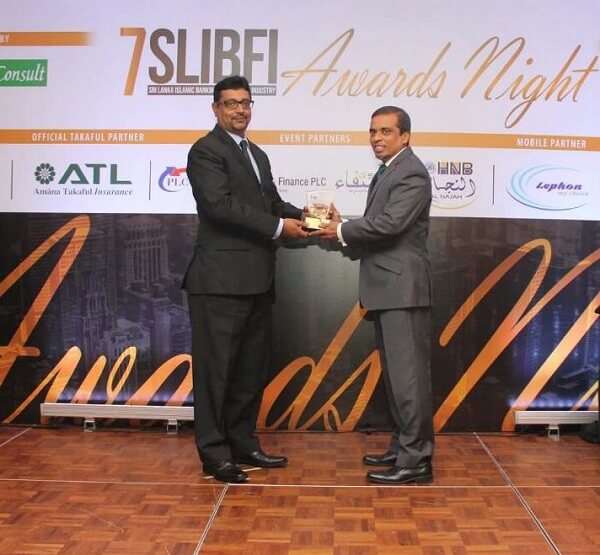 Principal, KPMG, Suresh Perera, presenting the Gold Award for Best Islamic Banking 'Window Unit of the year" to HNB Assistant General Manager, Islamic Banking, Hisham Ally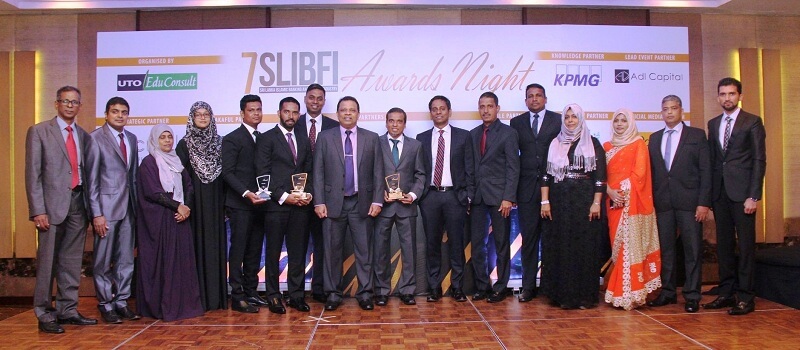 HNB Managing Director / CEO Jonathan Alles, Deputy General Manager, Corporate Banking, Ruwan Manatunga, Assistant General Manager, Islamic Banking Hisham Ally, Head of Project Finance, Majella Rodrigo with the staff of Islamic banking unit at the award ceremony