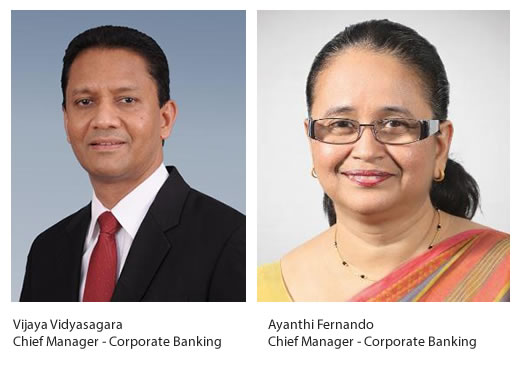 HNB strengthens its market leadership in the Corporate Cash Management business, with several of the country's corporates continuing to mandate the Bank to support their digital dividend issuances.
HNB's DGM Corporate Banking, Ruwan Manatunga said that since HNB's foray into the dividend issuance business in early 2018 with the launch of the fully integrated web-based Payments and Cash Management (PCM) platform, the Bank has successfully supported a large number of corporates to digitise the issuing of dividends.
"This success stands as a testament of the Bank's superior PCM platform with the support provided by our dedicated business teams, resulting in HNB now being the preferred banker for dividend issuances.
"Our goal is to continue to develop and leverage on cutting edge technological solutions, enhanced through seamless end-to-end processing capabilities along with the best in the market support teams, to create for our corporates unmatched business value and world class customer service experiences." Manatunga said.
The Bank provides the ability for corporates to initiate and process dividend issuance via HNB's PCM platform, by following company specific financial authorization matrix stipulated for their dividend issuance. Once corporate approvals are completed, dividend warrants are printed at the Bank premises along with the MICR line. HNB also offers support with mailing of warrants to shareholders with the entire solution being offered to corporates at preferential pricing.
As the first Sri Lankan bank to introduce a digitally-enabled Payments and Cash Management solution for corporates, HNB's cash management solutions offering covers corporates, ranging from multinationals, large local conglomerates, mid-market enterprises, financial institution groups and non-banking financial institutions.
Maintaining an island-wide presence across 251 customer centres, HNB's also offers some of Sri Lanka's most innovative internet and mobile banking services in the country that are designed to usher in a new technology-enabled banking paradigm.
Since the 2nd Quarter of 2018, HNB amongst others has supported the following corporates with their dividend issuance; Citizens Development Bank Finance Plc, C W Mackie Plc, Hatton Plantations Plc, Hayleys Agriculture Holdings Ltd, Lanka IOC Plc, L B Finance Plc, Malwatte Valley Plantations Plc, Nawaloka Hospital Plc, Odel Plc, Royal Ceramics Lanka Plc, Samson International Plc, Sanasa Development Bank Plc, Sunshine Holdings Plc, Watawala Plantations Plc.
HNB continues to receive local and global recognition for its Payments and Cash Management business and was recently awarded the best bank by Asian Banker and Asiamoney for Cash Management.
Operating across 251 branches island-wide HNB today stands as Sri Lanka's largest, most successful and most innovative private sector commercial bank. The bank continues to win local and international accolades in recognition of its outstanding efforts in building a new paradigm of digitally empowered banking in Sri Lanka.
Since been included in the prestigious Banker Magazine's list of Top 1,000 banks, HNB has today soared to the top of the list among Sri Lankan banks in addition to being recognized by the Banker Magazine as Bank of the Year for 2017. HNB was also awarded by Asian Banker as the Best Retail Bank in Sri Lanka for 2017, this is the 10th time the Bank has received this award.
HNB today stands as the most profitable private banking group in the country, maintaining a strong and growing presence across retail, corporate and Micro and SME sectors, extending cutting edge banking and financial services to a wide range of clients.
HNB is the first local Bank in Sri Lanka to receive an international rating on par with the sovereign from Moody's Investor Services while maintaining a national long term rating of AA - (lka) from Fitch Ratings Lanka Ltd.