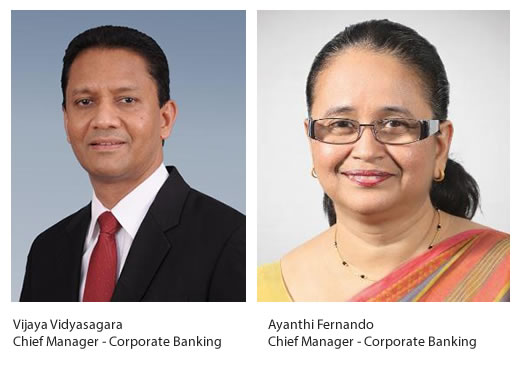 HNB, Sri Lanka's leading private sector bank, further strengthened its market leadership in Corporate Cash Management with the prestigious Euromoney Magazine awarding HNB the 'Market Leader in Cash Management' and 'Best Service in Cash Management' in Sri Lanka for the year 2018. These awards from Euromoney to HNB is a first for a local bank in Sri Lanka in cash management.
Euromoney Magazine is recognised globally as the most influential financial magazine and a leading authority on finance, banking, investment, and treasury and is read and trusted by the world leading companies, bankers, brokers, investors, regulators and policy makers.
Euromoney magazine ranks providers of cash management services on a global, regional and country level based on an annual survey of over 25,000 corporate cash managers, treasurers and finance officers worldwide. The Cash Management award is based on an independent survey whereby corporates are given the opportunity to rate the quality of the service provided by their local and multinational relationship banks across products and services.
HNB is the first local bank to offer a Web-based, fully integrated Payments and Cash Management (PCM) platform – HNB Online. The Bank, leveraging on this state of the art platform along with a dedicated business team that is considered the best in the industry, has within a short period of time achieved significant success in securing a leadership position in cash management, which was previously a captive business of the multinational banks
Corporates using HNB Online have real time control over their day to day management of collections, payments and liquid investments whilst enterprise-level clients have the ability to integrate HNB Online directly with their Accounts Payables and Accounts Receivables of their Enterprise Resource Planning (ERP) systems such as SAP and Oracle.
HNB's electronic banking platform not only caters to payments and collection solutions but also offers a comprehensive online Trade platform to support international trade finance business.
HNB's cash management offering covers corporates, ranging from multinationals, large local conglomerates, mid-market enterprises, financial institution groups and non-banking financial institutions.
HNB, Deputy General Manager, Corporate Banking, Ruwan Manatunga said: "Winning these two prestigious awards from Euromoney is a proud moment for the Bank. These awards from Euromoney along with the awards won earlier in the year from Asian Banker and Asiamoney for Best Cash Management are the results of the hard work put in by HNB's PCM team not only to develop a platform that is best in the market but also to provide its corporate customers solutions that create significant value that is world class. We believe in partnering with our customers to provide well-thought through PCM solutions that covers the full spectrum of cash management i.e. receivable reconciliation, cheque outsourcing, distributor financing, etc. We are proud of our cash management business and will continue to innovate to keep abreast with the ever-changing demands of the local and global financial markets to support our customers in the years ahead"
Reflecting on HNB's strength and dominant influence in Sri Lanka's financial landscape as the preferred corporate banking partner of choice, Manatunga concluded by saying that the confidence placed by corporates in HNB further encourages and supports the Bank to continue to invest in new technologies and teams. He also stressed that the Bank will continue to give leadership to the market and will further roll out world class innovative and customised solutions to its clients.
Operating across 251 branches island-wide HNB today stands as Sri Lanka's largest, most successful and most innovative private sector commercial bank. The bank continues to win local and international accolades in recognition of its outstanding efforts in building a new paradigm of a digitally empowered banking experience in Sri Lanka.
HNB was recognised by the prestigious Banker Magazine as one of the Top 1,000 banks in the world and is also the highest ranked local bank in this listing. For the year 2017, the Banker Magazine awarded HNB as Bank of the Year. In addition, HNB was also awarded by Asian Banker as the Best Retail Bank in Sri Lanka for 2017, which is the 10th time the Bank has received this award.
HNB today stands as the most profitable private banking group in the country, maintaining a strong and growing presence across retail, corporate and Micro and SME sectors, extending cutting edge banking and financial services to a wide range of clients.
HNB is the first local Bank in Sri Lanka to receive an international rating on par with the sovereign from Moody's Investor Services while maintaining a national long term rating of AA - (lka) from Fitch Ratings Lanka Ltd.