HNB offers host of new benefits packages through milestone agreement with Indra Traders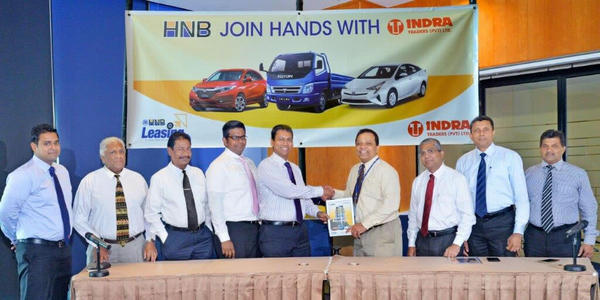 Indra Traders (Pvt.) Ltd Managing Director, Mr. Rushanka Silva exchanging MoU with HNB Managing Director /CEO, Mr. Jonathan Alles. From left: Indra Traders Asst. General Manager – Marketing, Mr. Mahesh Palihakkara, Group General Manager, Mr. Sunil Fernando, Director, Mr. Athula Silva, Director, Mr. Hashindra Silva, HNB Head of PFS Mr. Viraj Mendis, Senior Manager – PFS, Mr. Kanchana Karunagama and Manager Leasing - Business Development, Mr. A H M Aziz.
Commencing in February this year, the nation's premier vehicle, importer and distributor, Indra Traders struck a partnership with Sri Lanka's leading private sector bank, HNB, to offer customers mega benefits in addition to purchasing a top- of- the- line vehicle.


Indra Traders with over 45 years of excellence and prestige in the motor vehicle space, offers all types of transportation to many in our Country and over the years have transformed the lives and enhanced livelihoods to many in our island nation.


The partnership with HNB Leasing and Indra Traders was entered into by HNB's Managing Director Jonathan Alles & Indra Traders' Managing Director Rushanka Silva.


Special benefits like free life insurance covers, free HNB credit cards, best interest rates with the lowest rentals, special Indra warranty, free vehicle registration and a host of other value adds are on offer in this alignment.