HNB in collaboration with EDB announces launch of breakthrough new SME Export Credit facility
Picture shows Mr. Jonathan Alles, Managing Director/CEO, HNB and Mrs. Indira Malwatte, Chairperson and Chief Executive, EDB along with the senior officials of the EDB, HNB and SME exporters of diversified industries at the launch of the HNB SME Expo Credit Scheme
Sri Lanka's most innovative bank, HNB PLC working in close collaboration with the Export Development Board of Sri Lanka (EDB) announced the launch of HNB SME Export Credit, a pioneering new facility specially designed to meet the requirements and aspirations of Sri Lanka's burgeoning Small and Medium Enterprise (SME) sector.

Aimed at fostering unprecedented new opportunities for export-oriented growth in the SME sector, HNB's new facility is the first of its kind to be specially developed for the sector, and is part of a broader effort from HNB to support macroeconomic growth in Sri Lanka.

"Over the many years that HNB has been actively engaged in the SME sector, we have developed extensive and lasting relationships with businesses and entrepreneurs across the island and this is most certainly one of our core strengths as a bank.

"Moving forward we are confident that HNB will be able to serve a catalyzing role that will drive a drastic improvement to the nation's export performance, the results of which will feed directly into the local and provincial economy of Sri Lanka. Such developments are vital for grassroot development in Sri Lanka and HNB looks forward to working closely with the EDB and SMEs across the island to achieve this goal," HNB Managing Director/CEO, Jonathan Alles stated.

In particular, the credit facility will focus on bringing on-board new-to-bank export clients for pre and post shipment financing with limited tangible security, with special emphasis on Tea, Rubber, Spices, Cinnamon, Coconut, Textiles and Garments, Fisheries and related industries. During the course of proceedings, the bank also extended its first credit facilities under the HNB SME Expo Credit brand to 10 local SME exporters from these sectors.

"In addition to our position as Sri Lanka's premier retail bank, HNB has long been associated with growth and development in the SME sector. The launch of HNB SME Export Credit is therefore a natural extension of this relationship, working in collaboration with EDB.

"Through our own extensive network of clients, HNB has already identified several SMEs which have the potential to take their products into international markets and effectively compete in them. However, there are many more that need to improve in terms of scale and quality before they are ready to enter the international markets. This is a process that has to take place organically, but one which we are confident will gather momentum as more SMEs begin to succeed overseas," HNB Deputy General Manager – SME, Jude Fernando stated.

According to Fernando, the most difficult obstacle for SMEs seeking to compete in international markets is the long lead time between delivery on an export contract and the time taken to receive payments. Currently the only branded facility specifically designed for SME exports is the new facility launched by HNB which will offer individual clients up to Rs. 40 million in export credit with concessionary rates and easy payment terms, in order to enable them to trade on credit with international buyers.

Commenting further on the significance of the new facility, HNB Assistant General Manager -Trade Services, Janath Ilangantileke said: "There is tremendous potential to develop and transform the small and medium scale export industries in Sri Lanka, through this initiative of HNB. Sri Lanka's SME sector holds the key to an entirely new paradigm in export-led growth for the country; provided they are ready and willing to adapt, and add value in order to meet the higher quality requirements of the export markets."

"The EDB commends HNB for its efforts to harness the SME sector's potential and provide invaluable links to international markets and buyers. It has been our experience that many of our local SMEs have the skills, the talent, and the innovative products necessary to make in-roads into international markets.The only thing that many of them were lacking was the financial capacity necessary to compete in this sector.

"In that regard, the EDB is deeply committed towards ensuring that this collaboration with HNB leads to growth opportunities for our nation's vital SME sector while also promoting a drastic improvement in export growth over the coming years," EDB Chairperson and Chief Executive, Indira Malwatte said.

According to the EDB's most recent data, SME sector exports account for 4.01% of Sri Lanka's total exports, which stood at a value of Rs.59.7 Bn as at 2016. The majority of these products were comprised of agri-based, processed food, apparel, gems, coconuts and spices.

During 2017 the Asian Banker adjudged HNB as the 'Best Retail Bank in Sri Lanka' for the 9th time while also recognizing as the 'Best Micro finance Product in the Asia Pacific Region'. The 'AsiaMoney Magazine' awarded HNB as the 'Best Bank for SME' and the 'Best Bank for CSR' in the country'. Most recently, CFA Sri Lanka bestowed HNB with a 'Bronze' award for 'Best Investor Relations' while HNB's Annual Report was adjudged to be among the top 10 integrated reports at the CMA Sri Lanka awards 2017. HNB's leadership in technology was also recognized with the Bank's ATM network being recognized as the 'Best ATM Network of the Year' at the Lanka Pay Technnovation Awards 2017.

HNB is the first local Bank in Sri Lanka to receive an international rating on par with the sovereign from Moody's Investor Services while maintaining a national long term rating of AA - (lka) from Fitch Ratings Lanka Ltd. HNB is also ranked amongst the top 1000 banks in the world by the prestigious Banker Magazine.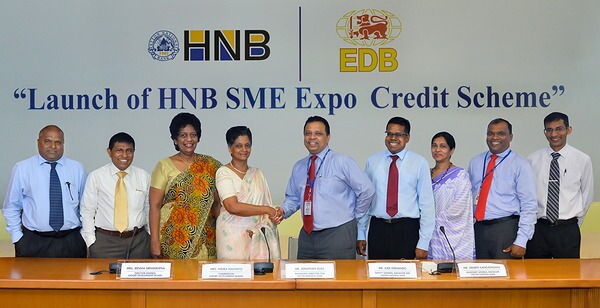 Picture shows (Left to right) Mr Shantha Fernando, Deputy Director - Regional, EDB, Mr.Dammika Jayawardena, Additional Director General - Development, EDB, Mrs. Jeevani Siriwardena, Director General, EDB, Mrs. Indira Malwatte Chairperson and Chief Executive, EDB, Mr. Jonathan Alles, Managing Director/CEO, HNB, Mr.Dilshan Rodrigo, Chief Operating Officer, HNB, Mrs Ruvini Thenabadu, Deputy General Manager – Credit & Transaction Banking, HNB, Mr Jude Fernando, Deputy General Manager – SME, HNB and Mr Janath Ilangantileke, Assistant General Manager – Trade Services, HNB.