HNB celebrates opening of a new Student Savings Unit at St Joseph's College, Colombo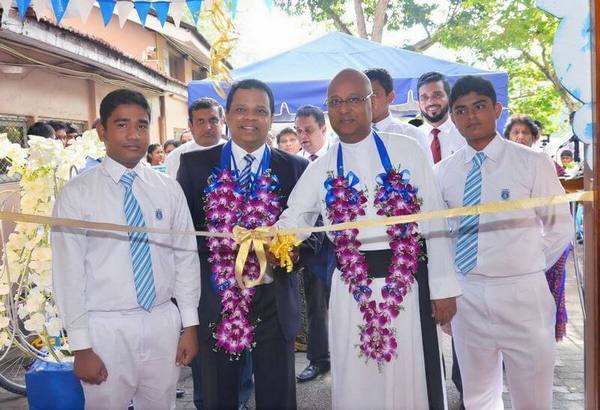 Rev. Fr. Travis Gabriel, Rector, St. Joseph's College, Colombo and Jonathan Alles, Managing Director/CEO of HNB opening the new Student Savings Unit.
Continuing in its pioneering efforts to inculcate the savings habit in children, Sri Lanka's premiere private sector commercial bank, HNB PLC announced the opening of a new Student Savings Unit at St. Joseph's College, Colombo.

Timed to follow recent celebrations of the school's 121st anniversary, the new unit was declared open by St. Joseph's College Rector, Rev. Fr. Travis Gabriel together with prominent past pupil of the school and Managing Director/CEO of HNB, Jonathan Alles.

Addressing a gathering of students and teachers, Alles said: "It is my distinct pleasure to be here with you all today to celebrate the 121st anniversary of this prestigious school, and the establishment of  HNB's student savings unit at St. Joseph's College. HNB was first established in 1888, nine years before St. Joseph's, hence this new partnership is constituted of two of Sri Lanka's oldest and most respected institutions.

"Our primary goal with this unit is to help students to gain a better understanding of how to save, and the importance of saving so that when you need to fund your higher education or make other important investments, you can do so without stressing your parents." 

"We will also augment this unit with unique technology so that all transactions will be carried out digitally. This will assist you as you progress in a digital world that is driven by automation. We sincerely hope that this early experience will go a long way towards securing a prosperous future for all of you,"

Student savings units were first introduced to the Sri Lankan banking landscape by HNB in 1994. Since then, the bank has expanded its service to cover 153 Students Savings Units across Sri Lanka. Through the units, student managers are groomed to take leadership in running a mini bank in school and get actively involved in promoting the savings habit among fellow students. The bank trains over 1,000 students annually in this capacity.