HNB's MD/CEO Jonathan Alles wins prestigious HR award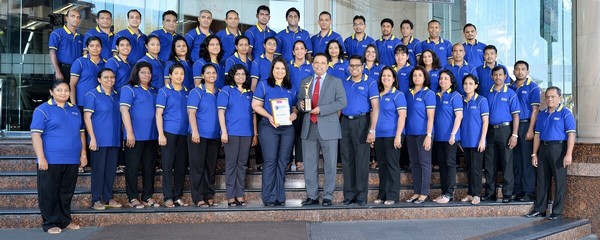 Jonathan Alles, Managing Director/CEO , Dilshan Rodrigo, Chief Operating Officer, Chiranthi Cooray ,Chief Human Resource Officer with the HR Team of HNB
Jonathan Alles, Managing Director/CEO of Hatton National Bank PLC (HNB) was conferred the award "CEO with HR orientation" at the Global HR Excellence Awards 2016, sponsored by CIMA - the Chartered Institute of Management Accountants UK and endorsed by World HRD Congress and Asian Confederation of Businesses.

A MBA from the University of Stirling, Scotland and a member of the Chartered Institute of Bankers, Sri Lanka Jonathan Alles has almost three decades of banking experience having served both domestic and international Banks in strategic and leadership roles. He presently serves as the Chairman, Sri Lanka Banks Association.

HNB's Chief Human Resource Officer, Mrs L Chiranthi Cooray accepted the award on behalf of her CEO at the awards ceremony held on 15 February 2016 in Mumbai, India.

"For any organization the CEO's role is not just to show vision and action but to be a part of the HR strategy building HR in to the fabric of business. The CEO WITH HR ORIENTATION does exactly this...! builds HR in to the fabric of business. Research shows that 70% of effort related to people management is the time a CEO spends on. Therefore any CEO WITH HR ORIENTATION will surely combine HR Stagy on to the fabric of business"
Dr. R. L. Bhatia, Founder, World CSR Day & World Sustainability

With staff strength of 4273, HNB has earned recognition as a sound workplace that attracts and retains the right people and provide scope for individual development by making its employees feel valued, included and engaged. The "Hatna Family" concept stands at the core of its efforts towards creating a team that is the best in the banking and financial services sector, not only professionally but as all round performers. The many HRD systems and policies in place, the Bank's value system and culture fosters a workplace where work-life balance is maintained, diversity upheld and ethical conduct an prerogative.

With a diverse and multi ethnic workforce scattered over 250 locations throughout the country the HR challenges are many. The HNB culture is firmly embedded on trust, mutual respect and acceptance. The concept of Hatna Family is a key driver for holistic HR implementation.

HNB has always made conscious efforts to adopt cutting edge HR practices and endeavoured to set a standard, to become a model for benchmarking in the industry and across all the sectors in Sri Lanka. Under Jonathan's leadership both during a short stint as Deputy Chief Executive Officer/Chief Operating Officer before taking over as Managing Director/CEO, Hatton National Bank has honed its HR strategies and driven a cultural mindset change in its employees.

Under his leadership HNB has developed to be an even more vibrant brand driven through technology, a sales and service culture enabled by sustained and careful reengineering supported by centralization and regionalisation efforts. Working on 5 core HR strategies during the last 3 years; HR at HNB has transformed from an administrative function into a key business partner role.

HNB has made significant investments to support the core HR strategy to solidify the leadership bench-strength by setting up the Leadership Top 100 and its succession plan i.e the 3-tier leadership programme. The Bank has embarked on formulating a leadership development track for high potential young managers and mid-career professionals with a view to strengthening the leadership Top 100 for the future. A structured programme was co-created with a UK based leadership development consultancy firm. The programme was the first of its kind at the Bank, creating an executive education and alumnus concept with the leadership track defined as 'Aspire' for the Hi Potentials, 'Acumen' for middle level leaders and 'Catalyst' for the Mid-senior leaders. The programme embodies 3600 leadership assessment, executive coaching, class room learning and syndicate group assignments in 3 modular programmes of 3 days each spread over a period of six months. 'Aspire' aims to create aspirational value aiding retention of 'Hi Potentials' to strengthen the leadership pipeline for future. 'Acumen' further hones the business and leadership acumen of the middle level leaders to enable progression into senior level, taking over more business/service vertical responsibilities. 'Catalyst' influences high-level organizational outcomes transcending functional disciplines to act as a catalyst to promote organizational growth and change as a mid-senior leader.

A strong believer in teams, Jonathan says he was influenced at a very young age that together everyone achieves more. The biggest influence on HNB culture was his emphasis that this was not a one man show but a team effort and that the Bank matters more. He has relentlessly driven a culture of change where accountability is high and the leadership team is transparent and very accessible.

It's not about introducing new initiatives, tools for the purpose of ticking the box but getting all on board for maximum impact he says.

Whilst the investment in additional awards and recognition schemes to recognize top performers have doubled since 2013, profit per employee has grown by 60% during this period.

The Bank's position as a preferred employer was revalidated by the recognitions received during this period. The Bank has been recognized for its commitment to its employees with local and international awards. HNB was awarded the prestigious Gold award for at the HRM Awards 2014/15 organised by the Association of Human Resource Professionals Sri Lanka; the Overall Award for 'Best Results Based Training' for the fourth consecutive year at the Asia's Training & Development Excellence Awards 2015 organised by the World HRD Congress, award for Talent Management at the Asia's Best Employer Brand awards 2014 organised by the world HRD Congress and Merit Awards for Excellence in Talent Management and Training & Development by the Institute of Personnel Management, Sri Lanka in 2014. HNB's transformative HR leadership is signified by the strategic leadership level recognitions received by the CHRO and CEO in consecutive years.

Commenting on the award HNB's Chief Human Resource Officer Mrs L Chiranthi Cooray stated, "Jonathan is an experienced banker and business leader who understands the dynamics of change very well. He has been at the forefront supporting HR strategy and implementation. Under his guidance HNB's HR has made a remarkable transformation as a business partner in very short time. This is clearly evident from our business results where profit per employee and profit per branch is on the rise. At HNB we are passionate about serving our people and this is amply demonstrated by the various accolades we have won. The CEO with HR orientation award sets the seal on HNB's commitment to its employees".