HNB's Corporate Banking announces the successful USD 18Mn transaction!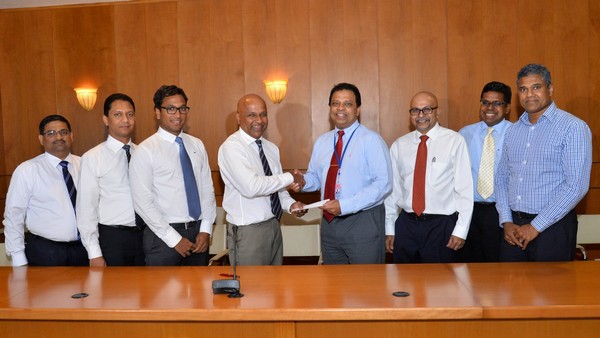 (From Left) Ravi Fernando, Account Relationship Manager - Corporate Banking, HNB, Vijaya Vidyasagara, Senior Manager - Corporate Banking, HNB, Dilanka Jinadasa, Managing Director- Intimate Wear Cluster Hela Clothing, Chula Jinadasa, Chairman Jinadasa Group, Jonathan Alles, Managing Director/CEO, HNB, Dian Gomes, Chairman, Hela Clothing, Dilshan Rodrigo, Chief Operating Officer, HNB and Harsha Guneratne, Managing Director -Casual Wear Cluster, Hela Clothing.
HNB's Corporate Banking business on the back of a very successful 2015, announced the USD 18Mn financing of Hela's strategic acquisition of Foundation Garments.

With a lending portfolio of over LKR 250 Bn, HNB's Corporate Banking business is the largest amongst all local and foreign private commercial banks with a diversified portfolio comprising of working capital, trade financing and project financing businesses.
 
The businesses in the year 2015 grew its asset book by over 50 Bn supporting large private sector expansion projects in areas such as manufacturing, healthcare, agriculture, transportation, education, trading, mixed development, tourism, solar and hydro power. The business has also supported the Government in its infrastructure development projects covering road networks, water projects etc.

It is thus, the depth-of our product offering and client relationships, as well as a seamless and strategic marketing effort encompassing support divisions such as Trade, Treasury, Cash Management and E-banking which drove HNB's Corporate Banking business' excellent performance during the year 2015. 

These achievements are an endorsement of the success of the Bank's seamless approach of marketing total solutions to its valued customer base across all parts of the country.

It was also "Business Unusual" as Corporate Banking ventured overseas for the first time, to lend in Cambodia, Uganda and the Maldives. In the year ahead, the Bank will continue to pay particular focus in expanding its business activities in overseas markets.

Mr Jonathan Alles, MD /CEO of HNB speaking on this occasion articulated that the Corporate Banking business of HNB is now recognized to be the preferred banking partner of choice of majority of the local corporate businesses. He also mentioned that in the year ahead, the Bank will continue to invest further to strength its client relationship management teams as well as introduce world class banking experiences to its customers. In this regard, the development of a new state of the art Electronic Banking platform to cater to both cash management and international trade needs of the Bank's corporate customers is a testament to this commitment. This banking platform to be launched in early 2016 will be the first of its kind amongst local banks and be on par with electronic banking platforms of all other international Banks, which have a presence in Sri Lanka and reinforce and help sustain the Bank's leadership position in the Corporate Banking market. 

The funding of Hela's acquisition of Foundation Garments is a further testament of HNB's Corporate Banking business' support the growth of the local Apparel business in Sri Lanka, and in particular in this instance Hela's aggressive local and overseas business expansion plans.<br><br>
Today, 20 years since its inception, Hela Clothing, the British owned apparel manufacturing group, with its acquisition of Foundation Garments, is poised to contribute significantly to the growth of Sri Lanka's Apparel Industry.

In its march to the top, Hela Clothing recently appointed a new chairperson and made the first in a series of acquisitions.

Hela Clothing nominated the charismatic CEO and much accomplished entrepreneur Dian Gomes, who recently completed a successful 25 year stint at MAS Holdings, as its new Chairman. Dian was the Managing Director/CEO of MAS Holdings' largest business division, MAS Intimates. He has built some of the most influential and globally recognized business brands throughout his career in the apparel industry and is geared to take Hela Clothing to new heights, through continuous growth, development and innovation. Joining Dian in his quest to grow Hela Clothing's business both locally and internationally are Director, Robert Wigley; Director, Dominic McVey; Managing Director-Casual Wear Cluster, Harsha Guneratne; Managing Director-Intimate Wear Cluster, Dilanka Jinadasa; Sales and Marketing Director, Ananda Weerakoon; and Group Manufacturing Director Nipuna Dias.

Robert, the former Chairman of Merrill Lynch is an investor, entrepreneur and finance industry veteran. Being the Chairman of Ellestone Apparel and the majority shareholder of Hela, Robert plays a vital role in providing strategic direction and will spearhead Hela's aggressive mergers and acquisition plans.<br><br>
Dominic, Britain's youngest self-made millionaire made his first million at the age of 15. Being Britain's second most influential entrepreneur under thirty, and Dian's predecessor, he doubled the top line of Hela and will be involved in executing their new growth strategy.