HNB Relocates Delgoda Customer Centre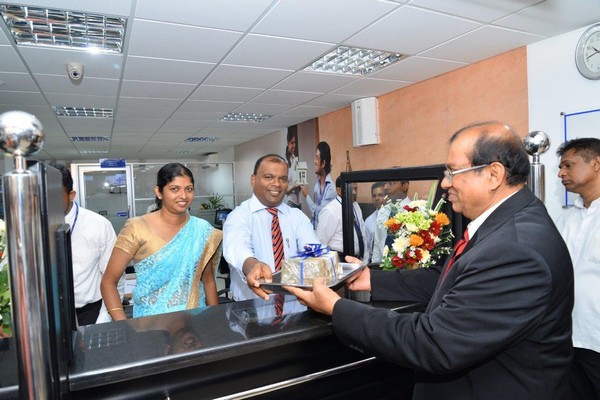 Picture shows Mr Jude Fernando, Assistant General Manager accepting the first deposit from Mr Upali Gunarathna, Member of Western Provincial Council and Ms Anupama Subasinghe, Manager, Delgoda Customer Centre of HNB are also in the picture.
Hatton National Bank recently relocated the Delgoda Customer Centre at No 348/7, New Kandy Road, Delgoda . The newly relocated customer centre is housed in a more spacious building with ample parking space. This customer centre was ceremonially declared open by Mr Jude Fernando, Assistant General Manager, SME of HNB. A large gathering was present on this occasion including the Senior Management members of HNB.

Speaking at this occasion the Assistant General Manager, SME of HNB, Mr Jude Fernando, said that "HNB's product and service offerings have been unparalleled and unrivalled in the banking sector for many years. This is the primary reason HNB enjoys a dominant position and we intend to build on this over the coming years."

He further stated: "With the rapid development in the town of Delgoda we have no doubt that this relocation to a much more spacious and conveniently accessible location will serve the banking needs of the rapidly growing SME sector in this area."

HNB will be offering its full range of products and services in this new building supported by its electronic banking channels with latest technology and a service quality that is synonymous with HNB.

The Delgoda HNB Customer Centre relocation is in line with the banks strategy to upgrade its building and service proposition in important locations across Sri Lanka.