HNB invests in solar power to reduce carbon footprint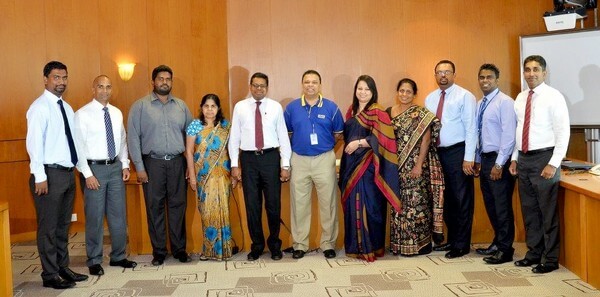 (From left) Mr Roshane Perera, General Manager - Projects, Finco Green Energy Solutions (Pvt) Ltd, Mr Nishan Weerasooriya, Managing Director, Finco Green Energy Solutions (Pvt) Ltd, Mr Ravindu Siriwardena, System Design Engineer, JLanka Technologies (Pvt) Ltd, Mrs G Jayasoma - Director - Operations, JLanka Technologies (Pvt) Ltd, Mr Dilshan Rodrigo, Chief Operating Officer, HNB, Mr Jonathan Alles, Managing Director/CEO, HNB, Mrs Chiranthi Cooray, Chief Human Resource Officer/AGM-HR, HNB, Mrs Niroshini Wettasinghe, Chief Manager – Legal, HNB, Mr Prasanna Hewapathirana, Senior Manager – M & E Engineering, HNB, Mr Roshan Fernando, Senior Manager – Operations & Maintenance HNB and Mr Janaka Epasinghe, Head of Services, HNB.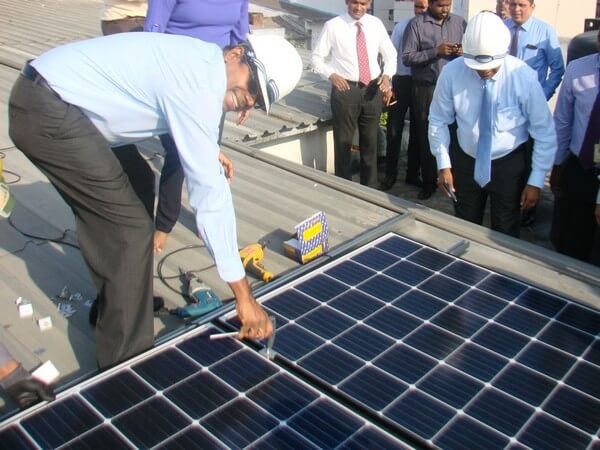 With the aim of carrying out its operations in an environmentally sustainable manner, Hatton National Bank (HNB) has embarked on a massive 1.3 megawatt solar power project.

This project is expected to generate 2 million kilowatt-hours of power per annum, which will enable HNB to cover 15% of its total power requirement through solar energy. Therefore it will reduce the carbon footprint of the Bank by an impressive 850 metric tonnes.

The landmark HNB Towers in Colombo and over 249 HNB customer centres islandwide will derive power from this project, while 7 branches will operate solely on solar power. The Bank has tied up with JLanka Technologies and Finco Green Energy Solutions, two leading solar power companies in Sri Lanka, for the project.

HNB has led the banking industry towards a green revolution over the years, and this is the latest initiative in its environmental sustainability drive, which has focused on establishing green buildings, combating climate change, and the conservation of natural habitats.

Commenting on this project, Mr Dilshan Rodrigo, Chief Operating Officer of HNB stated; This project is the first phase of a systematic process of transforming our key customer centres to solar energy, thereby reducing our reliance on fossil fuels. We are delighted to partner with Finco and JLanka on this exciting venture which further reinforces our commitment to a greener office through Green Buildings, Paperless offices, Digital Banking and employee engagement efforts".

The Bank has constructed Green Buildings in Nittambuwa, Jaffna and Kalmunai, which have received several awards over the past few years in recognition of their focus on energy efficiency. In fact, with the unveiling of the Nittambuwa building in 2011, HNB made history as the first bank to open a green bank building in Sri Lanka. Alternative energy sources, and solar power in particular, have been an important element of HNB's environmental sustainability drive. The HNB green buildings contain roof mounted solar photovoltaic systems with net metering facility to generate electricity, screens which reflect glare and excess sunlight, and sophisticated solar shading systems which enable the building to react to changes in the weather and the sun's position, in order to optimize the flows of heat and light through the façade and reduce heat gain, glare and enhance the use of natural daylight, thereby reducing the building's operating costs. These three Green Buildings are shining examples of HNB's overall sustainability philosophy.

The Bank led a sector wide initiative in 2015 to strengthen Environmental and Social (E&S) Management in financial institutions, through the Sri Lanka Banks' Association and cofunded by the DEG - Deutsche Investitions- und Entwicklungsgesellschaft, one of the largest European development finance institutions for long-term project and company financing. This led to the formation of a working group representing different Banks, which developed 11 sustainable banking principles for Sri Lanka. The culmination of the first phase was the creation of the Sri Lanka Sustainable Finance Initiative, which promotes best practices in sustainable finance. The second phase of the project would involve exploring opportunities for industry alignment while building industry wide capacity in the area of environmental and social risk management.

The HNB Green Pledge aims to raise awareness on environmental issues amongst employees and to educate them on practical ways through which the environment can be taken into account in their day-to-day lives. It is based on the 3-R concepts of Reduce, Reuse and Recycle, thereby implementing best practices on waste management and energy efficiency. The Pledge, which has been taken by all HNB employees, has established a culture of environmental consciousness within the Bank. It has also led to the implementation of the Environmental and Social Management System (ESMS), which tracks HNB's environmental and social compliance.

From 2010 onwards, HNB has taken steps to reverse the Bank's carbon footprint, by planting trees to compensate for the number of trees invariably sacrificed in the course of business. Personal ownership of the trees and home gardening have been encouraged by the Bank in this campaign, which has targeted HNB employees, customers and school children. Furthermore, over the past two years HNB has supported the 1 million tree stories campaign of the Rotary Club. It has also sponsored the clearing of 30 hectares of the Bundala National Park of invasive species which threatened the survival of the Park. This was an investment of millions of Rupees, and was implemented with the assistance of the Wildlife and Nature Protection Society of Sri Lanka and MAS Linea Aqua.