HNB and DIMO offer unmatched leasing package for TATA vehicles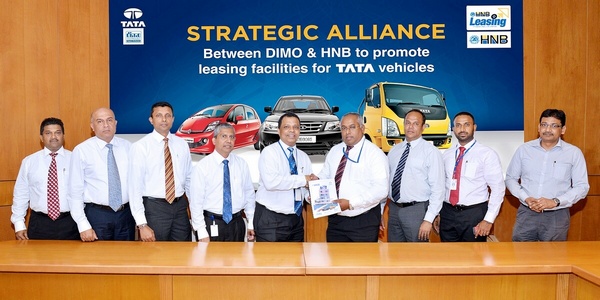 From Left,H M Aziz, Manager – Business Development (Leasing), HNB, Jeewantha Perera, Manager – Leasing, HNB, Kanchana Karunagama, Senior Manager – Personal Financial Services, HNB, Viraj Mendis, Head of Personal Financial Services, HNB, Jonathan Alles, Managing Director/CEO, HNB, Gahanath Pandithage, Group CEO- DIMO, Vijitha Bandara, Chief Operating Officer – Tata Division - DIMO, Nalinda Kurukulasooriya, General Manager – TATA Commercial Vehicles Sales, Rajiv Jaiswal, Country Manager –Tata Motors Limited Sri Lanka.
Hatton National Bank (HNB) has announced an unmatched leasing package, which includes the lowest interest rate in the market, for buyers of brand new TATA commercial and passenger vehicles from Diesel & Motor Engineering PLC (DIMO).

In addition to the lowest interest rate, buyers will receive a host of other benefits, which includes a free life insurance cover of Rs. 4 Mn from HNB Assurance, a free HNB credit card, free vehicle registration and insurance.

This is the 11th consecutive year that HNB has teamed up with DIMO to promote TATA vehicles. As it has over the past decade, the combined strengths of the banking giant and the diversified conglomerate will ensure that the customer is the ultimate winner of this promotion. TATA is the bestselling vehicle brand in the country, and has a wide range of vehicles such as cars, small commercial vehicles, cabs, heavy commercial trucks and buses. The wide reach of HNB will offer customers the convenience of obtaining this leasing package at over 249 HNB Customer Centers around Sri Lanka.

DIMO has been the market leader in the commercial vehicle category in Sri Lanka for several decades. TATA Motors India and DIMO have a strong relationship spanning 54 years, and TATA commercial vehicles have played a vital role in the daily lives of many Sri Lankans. DIMO currently operates more than 40 branches across the country and provides 24-hour roadside assistance to TATA customers anywhere in Sri Lanka.

Hatton National Bank is a premier private sector commercial bank with the largest branch network among private sector commercial banks, spread across the length and breadth of Sri Lanka and caters to all segments of the market through its diverse product and service offering. The Bank is also involved in insurance and capital market operations in the Country through its Group companies. During 2014, the Group assets surpassed Rs 600Bn, while the Group recorded a post-tax profit of over Rs 10Bn for the year. Hatton National Bank has been awarded by the Asian Banker Magazine as the 'Best Retail Bank in Sri Lanka' for 7 years for its performance from 2007 to 2012 and in 2014 and named as the 'Bank of the Year in Sri Lanka' for the year 2012 & 2013 by the Banker Magazine of UK. In 2012 HNB became the first Sri Lankan bank to obtain an international credit rating and was assigned a foreign currency issuer rating of B1 on par with the sovereign rating by Moody's Investors Service, while it has a national long term rating of AA- (lka) by Fitch Ratings (Lanka) Ltd.