Taking Sri Lankan HR leadership to international frontiers, L Chiranthi Cooray, was the recipient of the Global HR Excellence HR Leadership Award by the World HRD Congress at a ceremony held at the Taj Lands End Hotel, Mumbai, India on 15 February 2015.
Cooray is the Chief Human Resource Officer of Hatton National Bank PLC. Leading the human resource strategic deliverables of the Bank as the HR Business Partner, she manages the sustainability function of HNB and serves as a trustee of the HNB Sustainability Foundation. She is currently the President of the Association of Human Resource Professionals, Sri Lanka.
Under her leadership HNB's position as a preferred employer has been revalidated on several instances. HNB PLC was the proud recipient of a "Gold" award at the 6th HRM Awards held recently in Colombo organized by the Association of Human Resource Professionals, Sri Lanka. The Bank has been recognized for its commitment to learning for the third successive year at the Asia's Best Employer Awards and for talent management in 2014. HNB PLC was also recognized with Merit Awards for Excellence in Talent Management and Training & Development by the Institute of Personnel Management, Sri Lanka in 2014.
An experienced HR professional, Chiranthi has contributed to the HR fraternity through her involvement in the country's premier association for HR professionals, HRP. Currently serving as the President of the Association of Human Resource Professionals she has served HRP in various capacities such as Secretary and Vice President since 2007.
In addition to her involvement in the HNB Sustainability Foundation, Chiranthi was a Charter Director of Zonta Club III of Colombo. Passionate about women in leadership, she serves as a mentor to female local undergraduates through the Zonta Women of Tomorrow mentorship programme (2009-2013). She has also been the Chairperson Zonta Women of Tomorrow Mentorship programme (2010-2012). She has been a Visiting Lecturer at the Science faculty, University of Colombo for elective module on HRM (2006-2011) and a professional volunteer at the Chris Care Centre for disabled children as a counselor for mothers of differently abled children.

Mr Jonathan Alles, Managing Director/CEO of HNB commenting on the award stated that the "HR team has been strengthened under Chiranthi's leadership to build an open culture of dialogue with business unit heads, drive engagement across 4500 staff scattered across the 250 customer centres, develop innovative approaches to strengthen succession planning and a performance driven culture. I am delighted at this recognition which I trust will inspire her and the HR Team to greater heights in the future".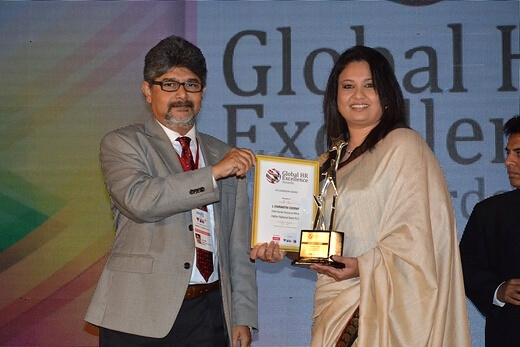 Chiranthi Cooray, Chief Human Resource Officer/AGM – HR, HNB accepting the award