HNB Wins Gold at the Annual Report Awards Competition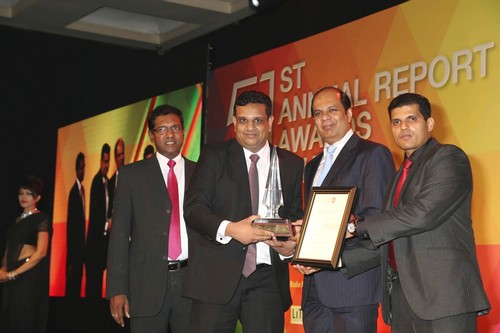 Murtaza Normanbhoy Senior Manager, Internal Audit of HNB accepting Gold award from Arjuna Herath, President, CA Sri Lanka.
Hatton National Bank won the Gold Award for Corporate Governance Disclosure and a Bronze Award for Banking Institutions at the 51st Annual Report Awards competition organized by the Institute of Chartered Accountants of Sri Lanka (CA Sri Lanka).

The CA Sri Lanka organized awards ceremony with the theme "Clarity Redefined" recognized the most cohesive, clear and customized annual reports that best reflect an entity's operations, while going beyond their statutory boundaries of reporting. This year an all time new record was created in the history of the competition with a total of 144 organizations vying for coveted honours.

Commenting on the performance of HNB at this competition HNB Chief Operating Officer, Mr Dilshan Rodrigo said, HNB is delighted to be recognized once again as the benchmark for Corporate Governance reporting. Whilst congratulating the team that made this possible, we will relentlessly pursue continuous improvement to deliver value to our stakeholders through a management ethos that lives our values day by day and provides clear, transparent and responsible reporting.