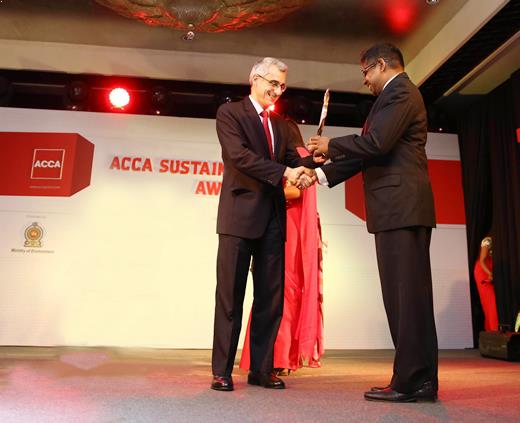 The Chief Operating Officer of HNB, Dilshan Rodrigo receiving the award from the Country Manager for Sri Lanka and the Maldives of IFC Adam Sack.

Hatton National Bank (HNB) won the Gold Award in the Banking Category at the 11th ACCA Sri Lanka Sustainability Reporting Awards held recently, solidifying its reputation as a bank with an unwavering commitment to sustainability. The prestigious ACCA Sustainability Reporting Award is also endorsed by the Ministry of Environment and the Global Compact Network Ceylon. The award was in recognition of HNB's sustainability reporting for the year 2013 and in evaluating the reports, the judges of the competition used completeness, credibility and clear communication as the criteria.
HNB Chief Human Resource Officer / AGM - HR Mrs. Chiranthi Cooray commented on the significance of this achievement.
"HNB has secured many awards in the past in the area of sustainability but this award is significant because it is in recognition of sustainability reporting. Our bank has a comprehensive sustainability strategy, an action plan and an agenda. This award is testament to the fact that we have not just excelled in our sustainability initiatives but also in our reporting of these initiatives."
She went on to say that following the globally accepted GRI guidelines in sustainability reporting contributed to HNB securing this award. The Global Reporting Initiative (GRI) is a leading organization in the sustainability field which has pioneered and developed a comprehensive Sustainability Reporting Framework that is widely used around the world.
"In order to be recognized for sustainability reporting there needs to be a lot of disclosure. We disclose how our sustainability policy impacts and influences stakeholders, which include customers, suppliers, employees, shareholders, the community and environment."
Mrs. Chiranthi Cooray stated that HNB has introduced an Environmental and Social Management System (ESMS), further demonstrating its commitment to sustainable business. An ESMS is a set of policies, procedures, tools and internal capacity to identify and manage a financial institution's exposure to the environmental and social risks of its clients/investees.
"Recently we implemented the ESMS policy and aligned our credit functions on an ESMS footing. We have created a new executive role within our sustainability vertical called Executive - Sustainable Business. This will help us determine how responsible we are towards the environment and how holistic our social systems are in our lending processes and practice. We have taken these initiatives because we do not consider sustainability an area we can engage in part time when there are high profit margins. We try to ensure that not only the bank but also our shareholders, customers, suppliers, employees and the entire community are sustainable in this journey with HNB."
HNB's holistic and long term sustainability strategy has laid the groundwork for its business philosophy and the core constituents of the strategy involve fostering an honest and open setting, improving business performance and dynamically connecting with stakeholders. The bank's approach to sustainability covers four key areas through the HNB Sustainability Foundation, namely Health, Education, Entrepreneurship and Environment.
With a proud history of over 125 years HNB caters to all segments of the market through its diverse product and service offering. HNB was awarded as the 'Best Retail Bank in Sri Lanka' by the Asian Banker Magazine for six consecutive years for its performance from 2007 'to 2012 and named the 'Bank of the Year in Sri Lanka' for the year 2012 & 2013 by the Banker Magazine of UK. In 2012 HNB became the first Sri Lankan bank to obtain an international credit rating and was assigned a foreign currency issuer rating of B1 on par with the sovereign rating by Moody's Investors Service, while it has a national long term rating of AA- (lka) by Fitch Ratings (Lanka) Ltd.