HNB wins Asia's Overall Award for Best Results Based Training for the 4th time in succession
Hatton National Bank PLC was awarded the "Excellence in Training & Development - Overall Award for Best Results Based Training" at the Asia's Training & Development Excellence Awards 2015 held on 12 August 2015 in Singapore.


The Asia's Training and Development Awards is organized by the Human Resources Development Management Committee of the World HRD Congress and hosted by the Employer Branding Institute, the World HRD Congress and Stars of the Industry Group, and are endorsed by the Asian Confederation of Business. Countries and regions represented include Australia, Bangladesh, Cambodia, mainland China, Hong Kong, India, Indonesia, Malaysia, Philippines, Singapore, Sri Lanka, Thailand, Turkey, Taiwan, the United Arab Emirates and Vietnam. The awards recognize successful employer brand-building initiatives and achievements in training and development.


Mrs L Chiranthi Cooray, Chief Human Resource Officer of HNB said the Bank's HR function has transformed from an administrator to a synergistic business partner further augmenting the Bank as a learning organization. We take a long term view of our investment in people and commit resources to provide professional and quality programmes for our staff, designed to meet their growing aspirations as well as our business needs. These programmes extend beyond job training to capacity building for leadership, supporting career progression and personal development. Our's is a predominantly grow talent model. Over 95% of our talent is developed internally. We build our own talent by recruiting school leavers at entry level positions who subsequently progress to senior management levels during their tenure of service. There are opportunities for staff at every level to progress in their careers periodically on acquiring the required skills, levels of performance and service tenures. In addition the Bank has consciously invested in a 3-tiered leadership development programme for high potential young managers and mid-career professionals with a view to strengthening the leadership Top 100 and aid succession planning. Receiving this award for the 4th time in 4 consecutive years is a recognition of HNB's focused strategy, dedication and commitment to build capacity and support personal development and aspirations of our staff.


HNB's HR has been consistently recognized for its best practices. During the period 2014/15 the Bank was also awarded the prestigious "Gold" award at the HRM Awards 2014 organised by the Association of Human Resource Professionals; Award for Talent Management at the Asia's Best Employer Brand Awards 2014 organized by the World HRD Congress; Merit Awards for "Talent Management" and "People Development" at the National HR Excellence Awards organized by the Institute of Personnel Management (IPM) Sri Lanka.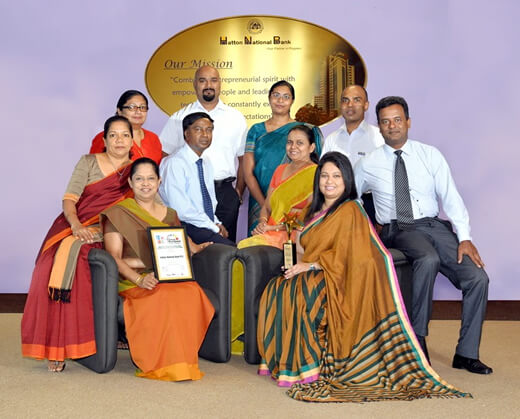 Mrs Chiranthi Cooray, Chief Human Resource Officer, HNB and Mrs Manaram Rambukwella, Chief Manager - Learning & Development, HNB with the team.