HNB Sathkara to pay homage to pensioners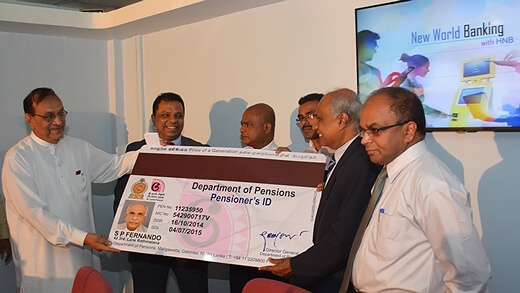 Hon Karu Jayasuriya, Minister of Public Administration, Provincial Councils, Local Government and Democratic Governance handing over the first NFC enabled ID Card combined with debit facility to the former Attorney General , Palitha Fernando PC. (L-R) Jonathan Alles, Managing Director/CEO, HNB, Sunil Hettiarachchi, Director General, Department of Pension and J Dadallage, Secretary, Ministry of Public administration, Provincial Councils, Local Government and Democratic Governance are also in the picture.
A unique banking product dedicated to pensioners
NFC enabled ID card combined with debit facility
Higher interest rates, health care benefits and special loans
Hatton National Bank (HNB) in partnership with Department of Pensions, introduced 'Sathkara', a unique product with a host of exclusive benefits and privileges for pensioners. The Sathkara product will offer pensioners the convenience of having all their identification details/data in a secure internationally accepted payment card issued by Hatton National Bank and the benefit of having access to the best senior citizens account in the market with a number of benefits which include the highest interest rates on savings, Insurance cover for hospitalization, special loans for self employment projects and special discounts from a wide range of partner hospitals and vendors.

This unique product pays homage to pensioners who have made an important contribution towards Sri Lanka's development by serving the nation tirelessly for the better part of their lives Sunil Hettiarachchi - Director General - Department of Pensions commenting on the new product offer stated that it would greatly benefit a large number of pensioners around the country.

"As the leading social services provider in Sri Lanka we have joined hands with HNB, a bank with a rich history of over 126 years, to introduce Sathkara. The cutting-edge digital technology utilized by this novel product will certainly improve the quality of life of over 500,000 pensioners in the country."

The benefits of HNB Sathkara include an additional interest of 1% for Savings accounts and 0.5% for Fixed Deposits over and above the prevailing rate, special loans up to Rs. 100,000/=, gift vouchers up to Rs. 10,000/- and priority treatment at HNB Customer Centres. The product focuses on the healthcare needs of pensioners as well by offering privileges such as reimbursement of hospitalization expenses up to Rs. 70,000/= and special discounts from reputed hospitals, medical institutions and renowned organisations.

Jonathan Alles - Managing Director /CEO - HNB said that this product is an extension of HNB's belief in presenting customers with the best and the most beneficial financial solutions. He further stated that "HNB Sathkara will offer Senior Citizens in Sri Lanka who are pensioners the payment card issued by one of the most trusted and stable commercial banks in Sri Lanka. In addition, they will have access to the best Senior Citizens account in the market and a dedicated HNB service counter operational on 5 days of the week at the Department of Pensions providing them access to the best of HNB banking solutions."

These benefits and privileges can be obtained through a pension ID card combined with the debit facility. The photo identity of the owner on the surface of the card is linked to a bank account for the pensioners to withdraw money. Since it is powered by a strong international card association, pensioners can use this card for purchases around the world. The card is NFC convenience of having all their identification details/data in a secure internationally accepted enabled, which allows the Department of Pensions to electronically store all data about the pension holder in the card itself for speedy transactions.

Hatton National Bank is a premier private sector commercial bank with the largest branch network among private sector commercial banks, spread across the length and breadth of Sri Lanka and caters to all segments of the market through its diverse product and service offering. The Bank is also involved in insurance and capital market operations in the Country through its Group companies. During 2014, the Group assets surpassed Rs 600Bn, while the Group recorded a post-tax profit of over Rs 10Bn for the year. Hatton National Bank has been awarded by the Asian Banker Magazine as the 'Best Retail Bank in Sri Lanka' for 7 years for its performance from 2007 to 2012 and in 2014 and named as the 'Bank of the Year in Sri Lanka' for the year 2012 & 2013 by the Banker Magazine of UK. In 2012 HNB became the first Sri Lankan bank to obtain an international credit rating and was assigned a foreign currency issuer rating of B1 on par with the sovereign rating by Moody's Investors Service, while it has a national long term rating of AA- (lka) by Fitch Ratings (Lanka) Ltd.