HNB Rewards Year 5 Scholarship Winners Across the Country with Singithi Lama Scholarships
For the 3rd consecutive year, Hatton National Bank (HNB) has rewarded students who excelled at the Year 5 Scholarship examination from schools across the country by awarding them Singithi Lama Scholarships worth Rs. 7 million.


The presentation of the scholarships took place at a special felicitation ceremony held at HNB Towers in Colombo recently with the all-island top scorers and the students who ranked amongst the Top 20 in their respective districts at the Year 5 scholarship examination. The all-island winners were garlanded and ushered in with members of the HNB Corporate Management team to the venue to recognize their efforts which brought honour to their parents and schools.


HNB MD / CEO Mr. Jonathan Alles, who graced the occasion as the Chief Guest, spoke of the importance of providing students the necessary financial assistance to pursue their educational ambitions. Speaking further he stated "The annual Singithi Lama Scholarship Scheme provides a pathway for students, particularly those from outstation areas, to gain quality education and realize their true potential. I am delighted to be here presenting the scholarships and I am confident that this will boost their chances of success both in their educational and professional lives in the years ahead."


Under this Year 5 Scholarship Scheme initiated by HNB in 2012, the children who maintain a minimum balance of Rs. 10,000 in an HNB Singithi Lama Account prior to the examination qualify for attractive cash awards. Accordingly, Master W. A. Venuja Nimsath, a student of Embilipitiya Kanishta Secondary School Embilipitiya, was awarded a scholarship worth Rs. 300,000 as the all-island top scorer at the Year 5 Scholarship examination.


Master H. M. M. Nethmal Thilakarathne of Royal Primary School Polonnaruwa who emerged in 2nd place were honored as the second best achiever and awarded a scholarship valued at Rs. 200,000, and Miss G. S. Yasodara Gunasekara of Pitiyagedara Primary School, Bemmulla and Miss M. N. Fathima Samah of Zahira Madhya Maha Vidyalaya, Mawanella who jointly emerged in 3rd place were honored as the Third best achievers and awarded scholarships valued at Rs. 100,000 each.


Winners who ranked amongst the Top 20 in their respective districts were awarded Rs. 20,000 each and in total, 160 HNB Singithi Lama Account holders who sat for this examination in 2014 from all 25 districts, including the North and the East, were felicitated at this event. The event was attended by Mr Thimal Perera, Deputy General Manager - Retail & SME Banking HNB Mr Rohan Thambirajah, Assistant General Manager - Network Management, Mrs Chiranthi Cooray, Chief Human Resource Officer/AGM - HR, HNB and Mr Kalum Wijesooriya, Assistant General Manager - Remittances & Foreign Currency Deposits.


Students who will be sitting for the examination in 2015 can open a Singithi Lama Account and maintain a minimum balance of Rs. 10,000 to qualify for the scholarship awards. An account can be opened with a minimum deposit of Rs. 500.


Among the many features and benefits of this unique account are a range of gifts based on the existing account balance, loans for purchase of computers and scholarships to the value of Rs. 7 million. In addition, children enjoy an added 1% interest above the general savings rate.


HNB, the premier private sector commercial bank in Sri Lanka, has been at the forefront of promoting programs in the sphere of education. The bank continues to champion a number of initiatives designed to boost skills and educational pursuits among children across the island through its homegrown Nana Pubuduwa initiative. Through CSR initiatives HNB has established over 200 libraries complete with computers and renovated infrastructure at schools while donating books, furniture and equipment to schools.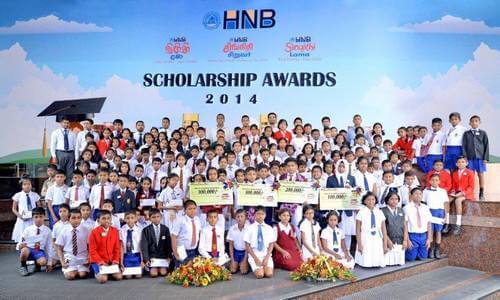 Picture shows Year 5 Scholarship Prize Winners with the HNB Corporate Management members.