HNB raises USD 50 Mn from Proparco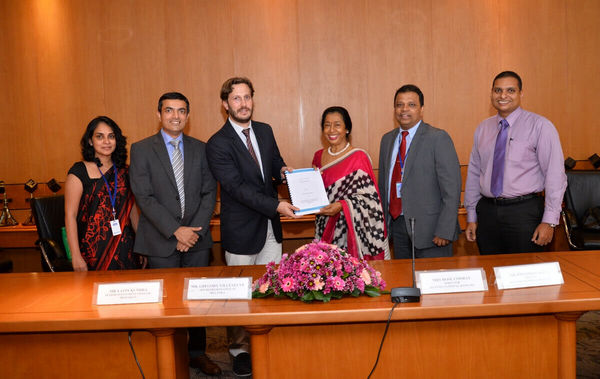 Mrs Rose Cooray Director HNB PLC and Mr Gregory Villeneuve, AFD representative in Sri Lanka exchanging the agreement
Total long term debt raised in 2015 from international institutions amounts to USD 185 Mn.


HNB PLC recently entered into an agreement with Proparco to raise USD 50 Mn through a five year senior long term loan. This is the third debt raising exercise completed by HNB during the year 2015 from international funding institutions increasing the total amount raised from foreign sources to USD 185Mn.

At the signing ceremony held in Colombo Mr Jonathan Alles stated that "HNB is delighted to have entered in to this loan agreement with Proparco. The willingness exhibited by institutions of the stature of Proparco to partner with HNB provides testimony to HNB's financial strength and stability and serves as an endorsement of our robust risk management and governance frameworks."

He further stated that "the funds raised will be utilized to fund two important sectors of the economy viz SME and agriculture business. HNB since its inception has been serving the SME sector and has been a key enabler in driving the growth in this segment. This transaction will further strengthen our market position in SME lending while contributing to boost economic growth"

Amaury Mulliez, PROPARCO's Chief Investment Officer, "welcomed this operation, in partnership with HNB, which is fully in line with AFD Group's mandate. Through this project, PROPARCO is contributing to strengthening a player that finances two key economic sectors in Sri Lanka, namely SMEs and the agriculture sector."

PROPARCO is the private sector financing arm of Agence Francaise de Development (AFD) and has been working to support world development initiatives for over 40 years. Proparco plays a key role in financing and supporting projects lead by companies and financial institutions in developing and emerging countries focusing mainly on infrastructure, renewable energies, agriculture, finance, health and education sectors.