HNB Provides financial inclusion to Watawala Plantations community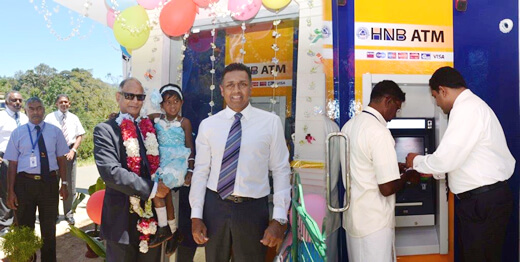 Mr Thimal Perera, Deputy General Manager (Retail & SME Banking) HNB and Dr. Dan Seevaratnam, CEO of Watawala Plantations PLC at the opening of new ATM at Tangakelle.
Hatton National Bank (HNB) recently introduced banking facilities to 4,175 associates and 120 staff members of Watawala Plantations PLC in the Lindula and Udugama areas becoming the first bank to provide financial inclusion to plantation associates.

The initiative is bound to benefit a large number of families for whom the world of banking has not opened up until now. "Plantation associates have traditionally lacked financial education and financial management skills due to this reason when salaries were paid by cash, irresponsible spending patterns were commonly observed. Through this initiative it will be possible for them to have access to cash whenever they really need it while cashless transactions will greatly reduce the risk of losing or misplacing money," said Dr. Dan Seevaratnam, CEO of Watawala Plantations PLC.

HNB has provided savings accounts for these associates in order to encourage the habit of saving and to promote sound financial management to uplift their living standards. The bank also took steps to open children savings accounts for the children of the associates with standing order facilities so that a part of the salary of the parent is automatically credited to the child's account on a monthly basis.

For greater convenience of these associates the bank took steps to issue debit cards and installed 3 state of the art Smart ATMs at Tangakelle, Nakiyadeniya and Henfold Estate. The shop owners operating in the vicinity were provided with HNB mobile pos machines (MOMO) to facilitate card based payments thus eliminating the need for inconvenient cash transactions.HNB also took the initiative to provide basic training to the estate community on the proper use of ATMs and doing cashless transactions.

A related benefit of the project was that HNB was able to facilitate the issuance of national identity cards (NICs) to hundreds of associates who had no valid documentation to prove their identity. The lack of NICs had been one of the main reasons preventing the estate community forming a relationship with a bank due to the mandatory need of an identity card to open a bank account. In order to provide these associates with national identity cards the bank co-ordinated with the Department of Registration of Persons and organized a two day visit of the officials of Department of Registration of Persons to the estates to fast track the process of issuing identity cards.

Speaking on the occasion Mr Thimal Perera, Deputy General Manager (Retail & SME Banking) said that HNB is a systematically and strategically important Bank in Sri Lanka and financial inclusion is a big part of our CSR agenda. This initiative not only drives inclusion but also ticks the boxes of financial education and discipline as well as social progression of this very important employee segment of the plantation sector. HNB is extremely pleased to be a part of this very important initiative.

HNB selected six plantations of Watawala Plantations PLC in Lindula and four plantations in Udugama for this massive project.

HNB was recognized as the Bank of the Year in Sri Lanka for the years 2012 and 2013 by the Banker Magazine UK and was named the Best Retail Bank in Sri Lanka by the Asian Banker Magazine for six consecutive years from 2008 to 2013.