HNB Pledges to "Create a Safe & Secure Future for Our Children"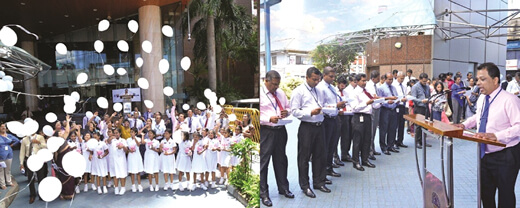 Hatton National Bank (HNB) celebrated White Balloon day on 01st October 2015, at their head office, T. B. Jayah Mawatha, Colombo 10 to coincide with World Children's Day; White Balloon Day is a symbol of support for the prevention of child abuse. This latest initiative of HNB, which falls under the sphere of work carried out by HNB Sustainability Foundation was conducted under the patronage of MD/CEO Mr. Jonathan Alles, who is the Chairman of the Foundation.

White Balloon Day dates back to 1996 where it began after a public meeting in Belgium, when 300,000 people gathered with white balloons to show public sympathy and support for the parents of girls who were sexually assaulted by a convicted pedophiliac.

The day's activities commenced with the trustees of the HNB Sustainability Foundation and staff members of HNB taking a personal pledge to protect children against child abuse. Children of a reputed school in the outskirts of Colombo who were invited to witness this event were then gifted with HNB Jumbo Tills, thus pledging the Bank's support to secure and empower children financially.

Mrs L Chiranthi Cooray, Chief Human Resource Officer / Trustee, HNB Sustainability Foundation mentioned that "the spate of incidents recently causes great alarm and action from corporate citizens to sensitize employees, customers and the community at large is required. Building community support is a crucial element of any child abuse prevention programme, and as a pioneer in the banking industry in Sri Lanka, we have the partnerships and networks which once tapped into will aid in making the difference and helping this cause. We have always made it our business in looking after the next generation and inculcating good values into their day to day lives through our minor saving schemes. Now we take a stand and rise on behalf of these children in protecting them and keeping them safe from the violence and turmoil which is rampant in our society".

Mr. Alles in addressing the event had this to say "I am extremely happy to be here, as this is something very close to my heart. Although the number of children being abused is on the rise most of these cases are unreported. Its something that we at HNB have zero tolerance for and we give leadership to take the message out to all our stakeholders and the community at large". The event was concluded with the students, trustees of the HNB Sustainability Foundation and HNB staff members releasing white balloons into the air affirming their pledge.

Every time you take a breath, a child is being abused. Sometimes the abuser is the parent, sibling or family friend. The future of our nation and the world depends on these abused children. Abused children abuse other children!

HNB Sustainability Foundation is ready to stand up and prevent this abuse while helping those abused children find a way to overcome the darkness and realize that they are loved far more than they ever could imagine.

The HNB Sustainability Foundation will be organising awareness programmes about child abuse, its prevention, to act vigilantly and how to handle an abused child and develop its confidence.