HNB joins hands with Sathosa Motors for Mega Leasing Promotion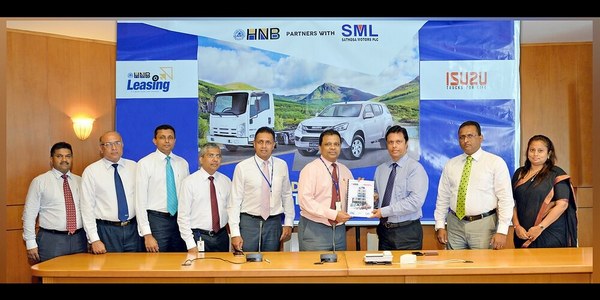 From Left: H M Aziz, Manager - Business Development(Leasing) HNB, Jeewantha Perera, Manager - Leasing HNB, Kanchana Karunagama, Senior Manager - Leasing HNB, B V F Mendis,


Senior Manager - Personal Financial Services HNB, Thimal Perera, Deputy General Manager - Retail & SME Banking HNB and Jonathan Alles, Managing Director/CEO HNB. Tilak Gunasekera, Executive Director SML, Neomal Fernando, Assistant General Manager - New Vehicle Sales SML
and Sujani Jayasooriya, Sales Manager - SUVs & Buses SML





Hatton National Bank (HNB) premier private sector commercial bank has joined hands with Sathosa Motors PLC to promote Isuzu vehicles, with a host of benefits and value additions for customers.

Buyers of brand new Isuzu trucks, SUVs and buses from Sathosa Motors will now receive a tailor made leasing package from HNB Leasing complete with exciting options in addition to a free life insurance cover of RS 2Mn and an HNB credit card free of joining fee.

HNB and Sathosa Motors have launched this joint promotion to provide their customers a cost effective solution to develop their business by combining the strengths of both companies. Sathosa Motors PLC and Isuzu Motors have enjoyed an enduring partnership over the past 52 years while HNB introduced leasing to Sri Lanka in 1990 and celebrates the 25th anniversary of leasing this year as the market leader.

This is the 11th consecutive year that these two parties have offered this promotion and the continuing collaboration ensures that the customer is the true winner as he is assured of high quality commercial vehicles from Isuzu, a multinational company with a presence in 120 countries and a respected brand in Sri Lanka which holds a 45% market share. Sathosa Motors and HNB further offer value for money, reliability and a hassle free service to their customers.

Hatton National Bank has been awarded by the Asian Banker Magazine as the 'Best Retail Bank in Sri Lanka' for 7 years for its performance from 2007 to 2012 and in 2014 and named as the 'Bank of the Year in Sri Lanka' for the year 2012 & 2013 by the Banker Magazine of UK. In 2012 HNB became the first Sri Lankan bank to obtain an international credit rating and was assigned a foreign currency issuer rating of B1 on par with the sovereign rating by Moody's Investors Service, while it has a national long term rating of AA- (lka) by Fitch Ratings (Lanka) Ltd.