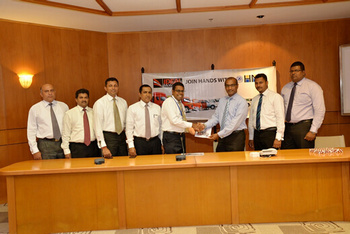 From left to right: Jeewantha Perera , Manager - Business Development (Leasing), HNB, A H M Aziz, Manager -Business Development (Leasing), HNB, Kanchana Karunagama, Senior Manager - Leasing, HNB, Dilshan Rodrigo, Chief Operating Officer, HNB , Chaminda Perera, Chief Executive Officer, Ideal Motors, Rakitha Wimalasekara, National Sales Manager, Ideal Motors and Kushan Goonawardene, Assistant Marketing Manager, Ideal Motors.



Hatton National Bank, the premier private sector commercial bank in Sri Lanka, recently joined hands with Ideal Motors (Pvt) Ltd to promote Mahindra vehicles.
Through this tie up, the buyers of brand new Mahindra vehicles will receive an attractive tailor-made leasing package with the lowest interest rate in the market from HNB Leasing. HNB Leasing will offer an unmatched leasing package for Mahindra customers through 250 Customer Centers in the country. In addition to this they will receive a life insurance cover of Rs.2 Mn from HNB Assurance and a free HNB Credit Card.
HNB was recognized as the Bank of the Year in Sri Lanka for the years 2012 and 2013 by the Banker Magazine UK and has been named the Best Retail Bank in Sri Lanka by the Asian Banker Magazine for six consecutive years from 2008 to 2013
Ideal Motors (Pvt) Ltd will promote Mahindra vehicles, which has been a renowned brand among the brand new Indian vehicle segment in Sri Lanka for the past 5 years. All Mahindra vehicles are now being offered at a special discounted price for HNB Leasing customers, along with free registration for all Mahindra vehicles and free Insurance for selected vehicles. All Mahindra vehicles are backed by a comprehensive two year after sales warranty or up to 75,000 km, whilst the exceptional service of Ideal Motors (Pvt) Ltd will provide customers the peace of mind they require along with technical assistance and parts support second to none.