Raises USD 100Mn through 7 year loan


HNB entered into a landmark agreement with the Asian Development Bank (ADB) to raise USD 100Mn by way of a 7 year senior debt. This is the largest transaction by ADB with a Sri Lankan private sector bank and the funds raised would be deployed towards infrastructure development projects with special emphasis on renewable energy, power and irrigation which are key sectors in the economic resurgence of Sri Lanka.
ADB which was founded in 1966, has been driven by an inspiration and dedication to improving people's lives in Asia and the Pacific. It is committed to help developing member countries to evolve towards modern economies that are well integrated with rest of the world..
Commenting on this epic transaction Jonathan Alles, Managing Director, CEO of HNB PLC stated that "we are delighted to partner with ADB to raise long term funding for the Bank. This is testimony to the trust placed by international investors and funding institutions in HNB. Since 2012 HNB has raised nearly Rs 30Bn from foreign sources at attractive rates and this clearly demonstrates the Bank's sustainable business model, robust growth trajectory, strong capital structure and its lead position in the banking industry".
He added that "Sri Lanka in its journey of reaching upper middle class status will spur growth in corporate and SME investments and the availability of infrastructure would be a key enabler. We as a leading private commercial bank in the Country are pleased to facilitate these developments through partnering with ADB".
The agreement was signed in Colombo by Mrs Rose Cooray, Director and Mr. Jonathan Alles, Managing Director/CEO on behalf of HNB and by Ms Sri Widowati Country Director on behalf of ADB.
HNB was recently awarded by the Asian Banker Magazine as the 'Best Retail Bank in Sri Lanka', which is the seventh occasion the Bank won this prestigious award. HNB was also awarded as the 'Bank of the Year in Sri Lanka' for the year 2012 & 2013 by the Banker Magazine of UK. HNB became the first Sri Lankan bank to obtain an international credit rating and was assigned a foreign currency issuer rating of B1 on par with the sovereign rating by Moody's Investors Service, while it has a national long term rating of AA- (lka) by Fitch Ratings (Lanka) Ltd.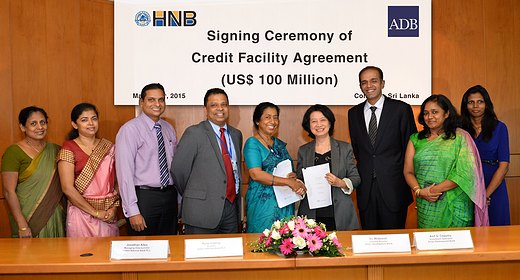 Mrs Rose Cooray Director of HNB exchanging the facility agreement with Ms Sri Widowati Country Director of ADB flanked by Mr Jonathan Alles, Managing Director /CEO of HNB and Mr Asif Cheema Investment specialist of ADB together with the respective teams