HNB extends highly successful 25th anniversary 'Special Leasing Promotion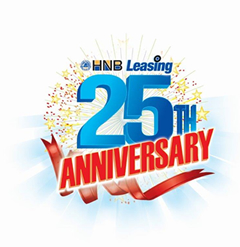 Extended to 31st March
Lowest interest rate in the market
A host of value additions

Hatton National Bank (HNB) has extended the 'Special Leasing Month' till 31st March 2015 based on its popularity with a view to providing further opportunities to those who missed out on the initial promotion.
The HNB Special Leasing Month was launched in February to celebrate the silver jubilee of leasing, which is a product introduced to Sri Lanka in 1990 by HNB. The promotion includes unmatched interest rates along with many other value additions, and covers registered, unregistered, permit and even personally imported vehicles.

This month-long promotion offers customers a host of benefits such as the lowest interest rate in the market of 9.0% for 3 year leases, 9.5% for 4 year and 5 year leases and the lowest down payment. A free credit card with free joining fee and a special motor insurance cover from HNB Assurance which includes a free life insurance cover worth Rs. 2 million are some of the other value additions.

During the Special Leasing Month the bank will offer a flexible repayment period and customers will be given the option of making bulk payments to reduce their monthly interest and to make payments based on their varying income levels, which is a novelty in the industry. The staff of HNB will ensure speedy delivery of the lease with a personalized service which can be experienced at 250 HNB Customer Centres around Sri Lanka.

We cordially invite all existing and prospective customers to take maximum advantage of this limited time period and fulfill your dreams of owning a vehicle of your choice.

HNB, the premier private sector commercial bank in Sri Lanka, was the first bank to introduce leasing to the banking industry in 1990 which allowed customers the convenience of fulfilling their leasing requirements from the bank itself. HNB was recognized as the Bank of the Year in Sri Lanka for the years 2012 and 2013 by the Banker Magazine UK and was named the Best Retail Bank in Sri Lanka by the Asian Banker Magazine for six consecutive years from 2008 to 2013.