HNB Awarded the Top 10 Best Corporate Citizens Award by the Ceylon Chamber of Commerce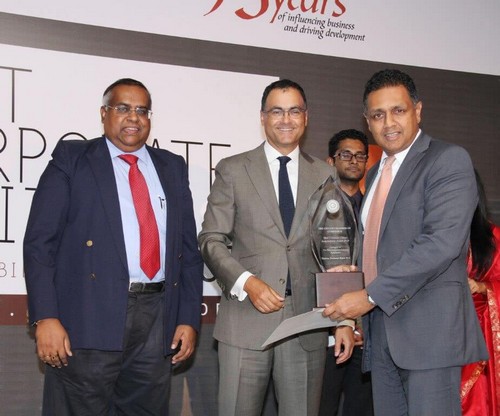 Picture shows Thimal Perera - DGM - Retail & SME Banking of HNB accepting the award "Top Ten Best Corporate Citizens of Sri Lanka" at the "Best Corporate Citizen Sustainability Awards 2015, from Mark Devadason, Group Head of Sustainability of Standard Chartered Bank ,Samantha Ranatunga , Chairman Ceylon Chamber of Commerce is also in the picture.
In recognition of its sustainability initiatives Hatton National Bank (HNB) was once again selected as a Best Corporate Citizen under the Top 10 category at the Best Corporate Citizens Sustainability Awards 2015 organised by the Ceylon Chamber of Commerce.

The awards ceremony, held on 26th November 2015 at the Cinnamon Grand Colombol, saw the 'Sustainability Stars' of the Corporate World being recognized for their untiring efforts to adopt Best Sustainability Practices in their business processes.

Environmental management, environmental integration, environmental value addition, employee relations, customer relations, community relations, governance, financial performance and economic contribution were some of the stringent evaluation criteria for this 'sustainability' award.

As one of the foremost financial institutions in the country, HNB has proved the sustainability of its operations through existence in the market since its inception as Hatton Bank in 1888. Today, the Bank has demonstrated sustainability through diverse initiatives which are directly linked to its core business activities, to make a greater impact on the country and the communities in which it operates.

HNB's renowned micro-finance product 'Gami Pubuduwa' is one of the greatest steps in the industry towards social sustainability. A number of customers who obtained micro finance loans under this scheme over a period of 25 years, have now grown into SME or corporate level and make significant contributions to the country's economy. The Bank has been partnering the progress of these customers not only through financing the startups and expansions, but enhancing their capacity through workshops to improve financial literacy of micro entrepreneurs , training programs for SMEs and facilitating buy-back schemes etc.

The Nena Pubuduwa School Library project which currently stands at 200 libraries and 15 computer centres in some of the most rural schools in the country, is another initiative by HNB that supports nurturing Sri Lanka's future generation with knowledge.

Financial assistance to cancer patients as well as facilitating trauma counseling, investments in hospital projects, water and sanitation projects, HIV Aids awareness campaigns etc. are HNB's contribution towards community health.

Sustainability for HNB also includes environment conservation and protection. Continued investments in environmental and social management systems bear evidence to how a corporate entity can contribute to environmental sustainability. These include taking into consideration the adverse effects to the environment and society when granting loans to customers' projects; investment in electronic banking solutions, investment in systems to reduce paper usage; investments in LEED certified Green buildings, investments in advanced technology to make the Bank's electricity consumption far below the industry average and the HNB Green Pledge taken by all employees. In addition HNB has invested in tree planting activities as well as many other environmental projects where the impact ranges from actual conservation to awareness building.

As a leading commercial bank in Sri Lanka, HNB's contribution to the economy of the country is enormous. This contribution is not limited to the payment of taxes and funding infrastructure projects, but creating employment directly as well as indirectly through the customers of the Bank. The procurement policy of the Bank is also geared to support local suppliers.

Sustainability for HNB is progress in every aspect of its existence. The Bank's motto 'Your Partner in Progress' is demonstrated throughout its 127 year history. As a true partner, HNB aims to offer a product range that meets the individual needs of infants to senior citizens and on the business side, it focuses on a philosophy of graduation, enjoying success stories of people who started as Gami Pubuduwa Micro finance customers and grew to the top of the ladder in business.