The Avurudu Pola 2015 organized by the Gami Pubuduwa micro finance programme of Hatton National Bank (HNB) will be held across the country in the period leading up to the Sinhala and Hindu New Year, opening up sales and market opportunities for micro entrepreneurs.
The Avurudu Pola trade fairs are scheduled to be held from 4th - 10th of April in the cities of Kandy, Batticaloa, Trincomalee, Jaffna, Minuwangoda, Dambulla, Panadura, Buttala, Matara and Nittambuwa, covering the Central, Eastern, Northern, North Western, North Central, South Western, Uva, Sabaragamuwa, Southern and Greater Colombo regions.


Mr. Lasantha Fernando, Deputy General Manager - Development Banking - HNB elaborated on the objectives behind the Avurudu Pola trade fairs.
"The idea behind hosting these events is not only to display and sell the products of our Gami Pubuduwa clients, but also to create new opportunities and markets for their products and further encourage the entrepreneurs. The Bank will use this opportunity to link the entrepreneurs with Corporates and large SMEs who are already "Partners in Progress", with the objective of integrating and creating new market opportunities."


Over a hundred stalls will be set up at each trade fair, dedicated to a wide range of industries. There will also be stalls which carry information on financial products & services.
The world renowned Gami Pubuduwa (Village Awakening) Scheme was initiated in 1989 by HNB as the first ever micro finance programme in Sri Lanka. Over time it has become one of the most successful microfinance programmes implemented by a commercial bank and has been highly acclaimed by local and international agencies. The Avurudu Pola is a key component of Gami Pubuduwa and has been helping micro entrepreneurs to take their products and goods to customers by establishing direct links between them.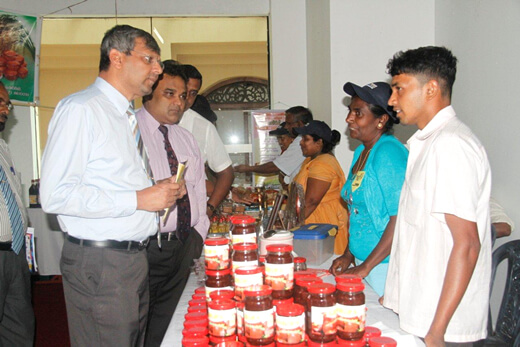 Mr. Lasantha Fernando, Deputy General Manager, Development Banking of HNB at the HNB Avurudu Pola 2014