Hatton National Bank (HNB) recently won two global brand leadership awards at the Global Brand Excellence Awards ceremony held at the Pan Pacific Singapore. The event was organized by the World Brand Congress and is endorsed by the CMO Council Asia, Asian Confederation of Businesses and the World Federation of Marketing Professionals. The World Brand Congress is the single largest forum of the worlds most successful and sought after brands and is a meeting place for brand guardians and brand builders from diverse sectors covering every continent.HNB won awards for brand excellence in the Banking and Finance sector and the brand leadership award for developing communication for the Pathum Vimana brand.
The Hatton National Bank brand is the fifth most valuable brand in Sri Lanka as rated by the Brand Finance Lanka (Affiliated to Brand Finance UK) for 2014 and is valued at Rs 19.9 Bn with a brand rating of AA+.
HNB's Deputy General Manager - Retail & SME Banking, Mr Thimal Perera said "one of the main strengths of the brand is the reputation it has created over the years through individual brand advertising and value creation to win the trust of over 2 million Sri Lankans who have made it their trusted banking partner". "HNB has strived for product brand distinctiveness in rewarding its customers continuously through its flagship sub brand HNB Pathum Vimana which has been a key initiative to drive financial inclusion in Sri Lanka. In 2014 the incentive criteria for Pathum Vimana was changed from a traditional prized based structure to a more inclusive reward structure" he said.
Hatton National Bank is a premier private sector commercial bank with a network of 250 customer centres spread across the length and breadth of Sri Lanka and caters to all segments of the market through its diverse product and service offering. The Bank is also involved in insurance and capital market operations in the country through its group companies. During 2013, HNB's asset book surpassed Rs 500 Bn, while the Bank recorded a pre-tax profit of over Rs.10Bn for the year. Hatton National Bank has been awarded by the Asian Banker Magazine as the 'Best Retail Bank in Sri Lanka' for 6 consecutive years for its performance from 2007 to 2012 and named as the 'Bank of the Year in Sri Lanka' for the year 2012 & 2013 by the Banker Magazine of UK. In 2012 HNB became the first Sri Lankan bank to obtain an international credit rating and was assigned a foreign currency issuer rating of B1 on par with the sovereign rating by Moody's Investors Service, while it has a national long term rating of AA- (lka) by Fitch Ratings (Lanka) Ltd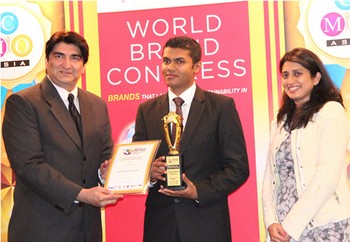 Upul Adikari, Manager - Marketing Communication, HNB accepting the Award from the Head of Berkadia India Services, Ned Mody. Virginia Sharma, Director Marketing for Asia Pacific Region, Linkedin, is also in the picture