Hatton National Bank won several prestigious awards at the recently concluded 50th Annual Report Awards Competition organised by the Institute of Chartered Accountants of Sri Lanka (CA Sri Lanka) to promote transparency and corporate governance.


HNB being the premier private sector commercial bank clinched the Corporate Governance Disclosure - Gold Award, Banking Institutions - Bronze Award and Corporate Social Responsibility Reporting - Bronze Award amidst competition from 130 organisations including leading blue chip companies and conglomerates.


In addition, CA Sri Lanka, together with the Securities and Exchange Commission of Sri Lanka (SEC), presented HNB PLC Chairperson Dr. Ranee Jayamaha with an honorary award for demonstrating visionary leadership and governance of the organization in achieving sustainable corporate performance.


Commenting on the performance of HNB at this competition HNB Managing Director / Chief Executive Officer Mr. Jonathan Alles said:
The Annual Report Awards Competition is one of Sri Lanka's most celebrated corporate award events and has set an exceptional benchmark in promoting transparency and accountability among organisations in the country, thereby helping strengthen the nation's financial landscape. Over the past five decades, CA Sri Lanka has consistently raised the bar of this annual competition, while ensuring all companies in Sri Lanka adhere to the strictest of international standards.


This year the event celebrated its golden jubilee and created history after recording the highest number of registrations during its half a century long existence. The grand finale of the competition saw an overwhelming participation of 1000 guests, comprising of the country's corporate glitterati including company Chairmen, CEOs, Directors, CFOs, and high-level government officials.


With a proud history of over 125 years Hatton National Bank caters to all segments of the market through its diverse product and service offering. Hatton National Bank was awarded as the 'Best Retail Bank in Sri Lanka' by the Asian Banker Magazine for six consecutive years for its performance from 2007 to 2012 and named the 'Bank of the Year in Sri Lanka' for the year 2012 & 2013 by the Banker Magazine of UK. In 2012 HNB became the first Sri Lankan bank to obtain an international credit rating and was assigned a foreign currency issuer rating of B1 on par with the sovereign rating by Moody's Investors Service, while it has a national long term rating of AA- (lka) by Fitch Ratings (Lanka) Ltd.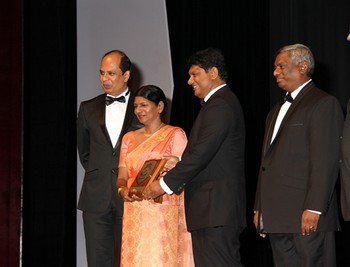 HNB Chairperson, Dr Ranee Jayamaha accepting the award from Mr Nalaka Godahewa, Chairman, Securities Exchange Commission of Sri Lanka. Mr Arjuna Herath, President, CA Sri Lanka and Mr Lasantha Wickremasinghe, Vice President, CA Sri Lanka are also in the picture.