In recognition of its sustainability initiatives Hatton National Bank (HNB) has won the Best Corporate Citizen Award at the 11th Best Corporate Citizen Sustainability Awards 2014 of the Ceylon Chamber of Commerce (CCC), amidst competition from over 70 firms.


The awards ceremony, held on 25th November at the Cinnamon Grand Hotel, saw the 'Sustainability Stars' of the Corporate World being recognized for their untiring efforts to adopt Best Sustainability Practices in their business processes.


HNB Chief Human Resource Officer / AGM - HR Ms Chiranthi Cooray commented on the reasons which led to HNB receiving this award.


"We have a deep commitment to sustainability initiatives in business as well as in our staff and customers' lives. HNB's approach to sustainability is not limited to corporate philanthropy and we carry out focused projects which extend over several years and have a lasting positive impact. Banking is inherently long term and as a bank with a history of over 125 years, we have developed generational relationships with our customers and adopted that spirit of longevity, stability and security in our sustainability initiatives."
Ms Chiranthi Cooray went on to elaborate on the approach of HNB to sustainability.
"Through our sustainability initiatives we focus on community development, environment conservation and economic contribution, which is all about People, Planet and Profit - the 3 Ps or the Triple Bottom Line. So we approach sustainability holistically and with long term goals. We drive investment, time commitment and strategic intent of our projects."


HNB's holistic and long term sustainability strategy has laid the groundwork for its business philosophy and the core constituents of the strategy involve fostering an honest and open setting, improving business performance and dynamically connecting with stakeholders. The bank's approach to sustainability covers four key areas through the HNB Sustainability Foundation, namely Health, Education, Entrepreneurship and Environment.


In the field of Health HNB has most notably established a long term relationship with the National Cancer Institute in Maharagama. The bank has renovated the male Surgical Ward and continues to assist in its maintenance and has set up a cancer counseling centre at the hospital. The HNB Sustainability Foundation provides financial assistance to cancer patients and their families to tackle the financial burden of the disease, especially in cases where the sole bread winner is affected, and up to now nearly 100 families have benefitted from this initiative.


In the field of Education HNB has enabled high literacy among Sri Lankan students by establishing and maintaining 200 libraries in schools, particularly those in rural areas, since 2005. The Bank has donated computers to selected schools and in addition to this buildings were renovated, books donated and furniture, equipment and fittings provided. Through needs-analysis, the Bank continues to add to the Nana Pubuduwa project and enhance the educational evolution of Sri Lanka's children through partnerships with reputed book publishers.


HNB Gami Pubuduwa is the flagship Entrepreneurial Sustainable Product of HNB and was established 25 years ago. Through this award-winning sustainable development initiative the Bank offers financial support and technical advice, builds sustainable relationships with the community and provides expertise and community advancement. Gami Pubuduwa has provided microfinancing solutions to sustain entrepreneurship through a bottom-of-the-pyramid structure and beyond this has been a sustainability tool to precipitate financial awareness and empathy, removing the associated reluctance to enter the Banking Sector amongst people in rural areas.
Finally, as a zealous believer in environmental conservation, the bank has focused on combating climate change, green buildings and conservation of natural habitats. HNB employs ecological procedures within the Bank and each staff member has taken a 'Green Pledge' to work towards this principle by employing the green office philosophy and 3R doctrine of 'Reduce, Reuse & Recycle'. The revenue from recycling schemes is re-injected into community advancement ventures and the Bank has also adopted a green procurement policy.


Ms Chiranthi Cooray spoke about the significance of the Best Corporate Citizen Award for HNB, particularly in relation to its staff.
"This award is an external validation of our approach to sustainability. Winning an award is a feather in the cap for the Bank and it means a lot to our staff as each and every one of them makes a meaningful contribution towards our sustainability policy. As part of a great institution the work they do, no matter how small, impact our planet, our country and its people and ultimately makes customers feel more secure dealing with a socially responsible bank."
HNB, the premier private sector commercial bank in Sri Lanka, was recognized as the Bank of the Year in Sri Lanka for the years 2012 and 2013 by the Banker Magazine UK and was named the Best Retail Bank in Sri Lanka by the Asian Banker Magazine for six consecutive years for its performance from 2007 to 2012.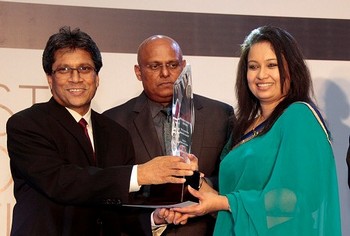 Picture shows Mrs Chiranthi Cooray, Chief Human Resource Officer/AGM - HR, HNB accepting the award from Mr Mangala Yapa, CEO/Secretary General of Ceylon Chamber of Commerce. Mr Suresh Shah, Chairman of the Ceylon Chamber of Commerce is also in the picture.