Hatton National Bank the premier private sector commercial bank in Sri Lanka joined hands with Micro Cars Ltd to promote the Micro & Ssang Yong Vehicles.
Micro Cars Pvt Ltd is one of the leading, automobile dealers in the "brand new small passenger car market in Sri Lanka. Micro is offering customers, special discounts on the value of the vehicles when Customers purchase through HNB Leasing.
HNB Leasing will offer special attractive leasing packages for Micro Cars through its network of 250 Customer Centres in the country. In addition to this a life insurance cover of Rs.1.2 Mn and a HNB credit card free of joining fee will be offered.
HNB was recognized as the Bank of the Year in Sri Lanka for the years 2012 and 2013 by the Banker Magazine UK and has been named the Best Retail Bank in Sri Lanka by the Asian Banker Magazine for six consecutive years from 2008 to 2013.
This promotion will enable individuals to pay monthly instalments as low as Rs. 2,276/= (5 years) Rs.2,064/- (6 years) for every Rs.100,000/=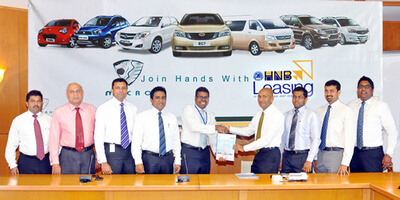 From Left: A H M Aziz - Manager – Business Development (Leasing), Jeewantha Perera – Manager – Business Development (Leasing), Kanchana Kurunagala – Senior Manager - Leasing, R M P Dayawansa - Assistant General Manager - Personal Financial Services and D P N Rodrigo ,Chief Operating Officer -HNB. Senani Perera Chief Operating Officer (Micro Cars Ltd), Ruvindu Gunarathne – Director (Micro), Anushka Polonnowita, General Manager – Euro Sports Auto Lanka (Pte) Ltd and Dhammika Goonewardena, General Manager – Micro Cars Ltd.