Hatton National Bank PLC scored a double win, securing the Award for Talent Management, and the prestigious Excellence in Training & Development Overall Award for Best Results Based Training at the Asia's Training & Development Excellence Awards 2014, held on 1st August 2014 in Singapore, having competed with a host of global brands.
Organized by the Human Resources Development Management Committee of the World HRD Congress, the awards programme focuses on recognizing individuals and companies for achievement in training and development.
"What is significant is that HNB's focused new strategy and direction towards a grow talent model for leadership development and succession pipeline has earned recognition both locally and internally. HNB has always invested in its people and we have now received the Training & Development Overall Award for the 3rd consecutive year, which speaks volumes for our commitment to enabling staff" commented Ms Chiranthi Cooray - Chief HR Officer of HNB.
She also added that HNB has established a unique Corporate Academy concept creating a leadership track for qualified professionals, high flyers and banking specialists, further augmenting its multi-faceted and diverse talent pool.
HNB has been recognized for its excellence in Human Resource and Learning and Development practices consistently. Some of the awards received during 2014 include Merit Awards for Talent Management and People Development at the recently concluded National HR Excellence Awards organized by the Institute of Personnel Management (IPM), Sri Lanka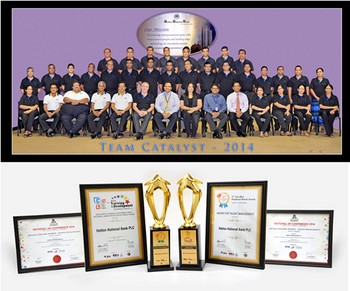 The Team Catalyst with the Managing Director/CEO, HNB, Jonathan Alles and Corporate Management members