HNB offers personalized and customized services to its customers.

  422 Smart ATMs in strategic locations and this number is growing rapidly.  

  Partnership with Lanka Pay also enables customers of partner banks to access HNB ATMs.

  HNB's tie-up with Visa and Master a convenience to foreigners and tourists visiting Sri Lanka.

  Availability of HNB's Smart ATM network consistently exceeds 99%.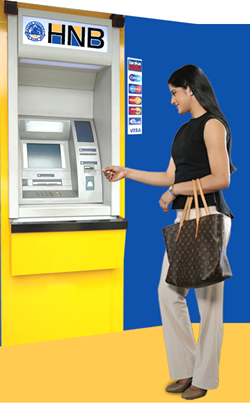 The Hatton National Bank (HNB) has revolutionized the ATM landscape in Sri Lanka's banking industry with state-of-the-art, technological advancements which have converted these Smart ATMs into virtual bank branches.


"With the implementation of the new Smart ATMs under an upgraded system, HNB's ATM network is probably one of the best in South Asia", says Mangala P. Wickramasinghe, Head of Card Centre & Electronic Delivery Channels.


Every single HNB Smart ATM we have equipped with the new switch is capable of working as a mini branch by itself, offering most of the services required by customers who want to visit a branch for whatever services they may want to obtain, he said.


He stated that HNB provides its ATM network and services to all its customers as well as to the banking community at large in Sri Lanka. The Bank also supports the unbanked population of the country catering to all segments.


In another landmark achievement, HNB recently partnered with Lanka Clear National Payment Switch to extend all banking services, earlier limited to HNB customers, to a wider segment in Sri Lanka at a reasonable cost. With this initiative, HNB's ATM services could be accessed by customers of many other banks which are partners of Lanka Pay, Wickramasinghe stressed.


This tie-up has given HNB the opportunity to serve its customers plus those of certain designated banks and Sri Lanka's unbanked population through various cash and non-cash related services, he said.


"Under this initiative, customers of People's Bank, Bank of Ceylon, Seylan Bank, Commercial Bank, NDB Bank and Union Bank can also now access HNB ATM services", he noted. "With this arrangement, we have short, medium and long-term plans of expanding the Smart ATM network with more kiosks and ATM machines equipped with the latest technology to offer more value added services".


This is also a part of the broader strategy to offer customers choice to use their preferred banking channel for transactions, Wickramasinghe explained.


Apart from the Lanka Pay partnership, HNB has also partnered with Visa, Master and Maestro segment associations to provide convenient services to all services to foreigners and tourists who visit Sri Lanka and also to Sri Lankans who use various payment card brands.


He said that traditionally, ATMs are seen and perceived as a channel for people to withdraw cash, but increasingly ATM networks not only provide cash-related services, but also work as virtual bank branches.


Other than cash withdrawals serviced through these ATMs, the HNB ATM network will support bulk cash acceptance and real time credits to accounts, currency conversions, online cheque acceptance and procession and also various utility bill payments such as electricity, water, mobile, top ups and payments etc. The majority of these online payments are on a real time basis, he underscored.


"There is another key aspect that differentiates the HNB Smart ATM network from other ATM networks. We provide personalized services to our customers. The behavior and pattern of their transactions are captured and prompted for future transactions with minimal key strokes and entry inputs. This facilitates customers to carry out with ease the desired transactions expeditiously", Wickramasinghe noted.


The availability of HNB's Smart ATM network consistently exceeds 99% and all locations we have chosen are strategically decided to ensure customer convenience and safety.
At present, HNB has a network of 422 ATMs - 342 onsite, including two drive-thrus and 80 offsite, mostly in public places such as malls, shopping complexes, supermarkets etc.