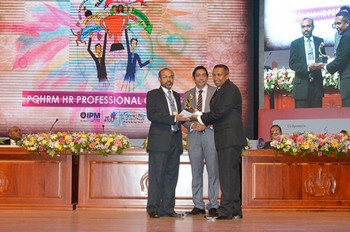 Gehan Mendis, Manager Industrial Relations of HNB receiving the 'PQHRM HR Professional of the Year' Award from Ajith R. de Costa, Past President of IPM Sri Lanka, Chairman of 'People Leaders' and "National HR Excellence Awards 2014" Sub-Committees. Sampath Jayasundara, Chief Executive Officer - hSenid Business Solutions, is also in the picture



Mr. Gehan Mendis, Manager Industrial Relations at Hatton National Bank (HNB PLC) received the coveted 'PQHRM HR Professional of the Year' award at the recently concluded National HR Conference 2014.


Mr. Mendis was recognized for academic and professional excellence in the field of Human Resource Management across several diverse industries. A proud past pupil of Dharmaraja College Kandy, he graduated from the Institute of Personnel Management Sri Lanka (IPM) with a merit pass in PQHRM in 2008 and is currently reading for the MBA offered by University of Wales. During his 14 year professional career he has received numerous accolades for his work in the plantation, insurance, pharmaceutical and banking sectors and has served in several Sub Committees at IPM since 2007.


Commenting on this significant achievement, Ms Chiranthi Cooray, AGM Human Resources of HNB PLC stated, "Professionalism in human resources, especially in a specialized area such as industrial relations is of paramount importance. At HNB, we are very pleased with the accolade awarded to Mr Gehan Mendis in recognition of his contribution to the HR profession and IPM Sri Lanka."


The National HR Conference, organized annually by IPM, is South Asia's largest HR event and provides a platform for the sharing of innovative HRM ideas amongst the local HR fraternity, recognizing excellence in HRM at a national level. The "HR Professional of the Year" award is presented for exemplifying excellence in the recipient's career through academic achievement, passion for continuous learning and personal integrity whilst fulfilling organizational and societal obligations.