Hatton National Bank recently relocated the Narahenpita Customer Centre at No 209/A, Kirula Road, Narahenpita. The newly relocated customer centre is housed in a more spacious building with ample parking space. This customer centre was ceremonially declared open by Mr Jonathan Alles, Managing Director/CEO, HNB. A large gathering was present on this occasion including Mr Ranjith Ranaraja, Financial Ombudsman, Ms Geethamani Karunaratne, Divisional Secretary, Thimbirigasyaya and the Corporate Management members of HNB.


Speaking on this occasion the Managing Director /CEO of HNB, Mr Jonathan Alles, said that "HNB's product and service offerings have been unparalleled and unrivalled in the banking sector for many years. This is the primary reason HNB enjoys a dominant position and we intend to build on this over the coming years."
He further stated that "Narahenpita is a great place to begin executing this plan as it is an important urban centre with good infrastructure, modern retail outlets and top hospitals. We are confident that we can serve the banking needs of the rapidly growing SME sector in this area through the collective efforts of a team of experienced and skilled staff."


HNB will be offering its full range of products and services in this new building supported by its electronic banking channels with latest technology and a service quality that is synonymous with HNB.


The Narahenpita HNB Customer Centre relocation is in line with the banks strategy to upgrade its building and service proposition in important locations across the length and breadth of Sri Lanka in order to be the Banker for the nation".


HNB, the premier private sector commercial bank in Sri Lanka, was recognized as the Bank of the Year in Sri Lanka for the years 2012 and 2013 by the Banker Magazine UK. It was also named the Best Retail Bank in Sri Lanka by the Asian Banker Magazine for six consecutive years from 2008 to 2013.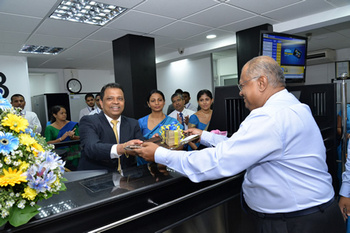 Mr Jonathan Alles, Managing Director/CEO, HNB accepting the first deposit from Mr Raja Nihal Hettiarachchi, Chairman, RNH Group of Companies. Mr Viraj Mendis, Regional Head, Greater Colombo Region, HNB and Ms Samuddika Mendis, Manager, Narahenpita Customer Centre of HNB are also in the picture.