Hatton National Bank recently relocated the Hendala Customer Centre at No 44, Elakanda Road, Hendala, Wattala. The newly relocated customer centre is housed in a more spacious building with ample parking space. This customer centre was ceremonially declared open by Mr Dilshan Rodrigo, Chief Operating Officer, HNB. A large gathering was present on this occasion including Mr Thimal Perera, Deputy General Manager - Retail & SME Banking of HNB, senior bank officials, government officials and customers.
Speaking on this occasion the Chief Operating Officer, HNB, Mr Dilshan Rodrigo, said that "With the rapid development in the town of Hendala we have no doubt that this relocation to a much more spacious and conveniently accessible location can only get better with the progress of road widening shortly. Our commitment to this area is to better serve our stakeholders accommodating more customers and providing additional facilities".
He further stated that "As 'Your Partner in Progress', we will continue to augment our traditional Bank products with digital/e-banking products such as Mobile Banking, Mobile POS (MOMO) and Internet Banking for individuals and corporates. We believe that the outcome of these efforts will provide easy access to our banking services increasing our penetration to all segments of society to fulfill their banking needs'.
HNB will be offering its full range of products and services in this new building supported by its electronic banking channels with latest technology and a service quality that is synonymous with HNB.
The Hendala HNB Customer Centre relocation is in line with the banks strategy to upgrade its building and service proposition in important locations across the length and breadth of Sri Lanka in order to be the Banker for the nation".
Hatton National Bank is a premier private sector commercial bank with a network of 250 customer centres spread across the length and breadth of Sri Lanka and caters to all segments of the market through its diverse product and service offering. The Bank is also involved in insurance and capital market operations in the country through its group companies. During 2013, HNB's asset book surpassed Rs 500 Bn, while the Bank recorded a pre-tax profit of over Rs.10Bn for the year. Hatton National Bank has been awarded by the Asian Banker Magazine as the 'Best Retail Bank in Sri Lanka' for 6 consecutive years for its performance from 2007 to 2012 and named as the 'Bank of the Year in Sri Lanka' for the year 2012 & 2013 by the Banker Magazine of UK.In 2012 HNB became the first Sri Lankan bank to obtain aninternational credit rating and was assigned a foreign currency issuer rating of B1 on par with the sovereign rating by Moody's Investors Service, while it has a national long term rating of AA- (lka) by Fitch Ratings (Lanka) Ltd.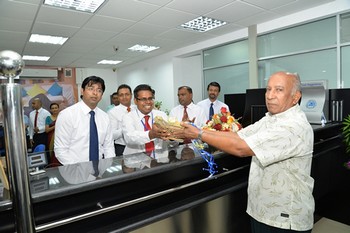 Mr Dilshan Rodrigo, Chief Operating Officer, HNB accepting the first deposit from Mr Edwin Rodrigo. Mr Thimal Perera, Deputy General Manager - Retail & SME Banking, Mr Jude Fernando, Deputy Head - Network Management, Mr R L Maheshwaran, Regional Head - North Western Region, and Mr Nilukshan Fernando Manager, Hendala Customer Centre of HNB are also in the picture.