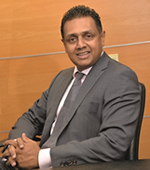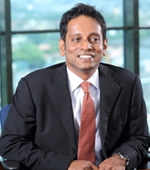 HNB PLC embarked on a transformational journey recently making significant investments into technology to ensure a best in class platform for delivery of products and services. Deriving the optimal results of a truly enabling IT infrastructure, the Bank is now well on course to create value through customized solutions and service excellence. Accelerated talent development initiatives such as HNB Corporate Academy showcasing a three tier leadership track of Catalyst, Acumen and Aspire helped build capacity to pioneer the many strategic initiatives taken on by the Bank.
Centralized operations for a standardized process excellence and a well-articulated distribution strategy through branch sales teams, sales dashboards, score cards and attractive incentive schemes together with HNB's own iconic brand ambassadors have ensured the cascade of the HNB's customer focused strategy through 250 customer centres which is the largest network among private commercial banks in Sri Lanka. This is a unique, unrivalled reach that HNB possesses in the market as one the largest private commercial banks in Sri Lanka.


Reaffirming its focus towards a market centric business model, Hatton National Bank (HNB PLC) this week announced the appointments of Thimal Perera, Deputy General Manager - Retail and SME Banking and Ruwan Manatunga, Head of Corporate Banking as two strategic appointments into the corporate management team.
"We are delighted and excited to have the business acumen and trail blazing track record of achievements that Thimal brings aboard to HNB which will no doubt propel our products and services in the retail, personal financial and SME space to give unmatched value to our customers. Ruwan who counts an impeccable record in corporate account relationship management will strengthen our reach in the corporate, middle and emerging market segments.


Both Thimal and Ruwan will further augment the leadership in relationships HNB has built over the years to be a preferred financial solutions provider to our loyal customers as well as extend our portfolio of services into unchartered territories powered by the home grown talent that HNB is acclaimed for and affirm with pride." commented Jonathan Alles, Managing Director/CEO of Hatton National Bank PLC.


Thimal Perera is a member of the Institute of Chartered Accountants of Sri Lanka and a finalist of the Chartered Institute of Management Accountants (CIMA) - UK. During his career at HSBC, he held responsible positions including Head of Marketing & Public Relations, Head of Card Issuing & Operations and Head of Credit Cycle & Risk prior to his appointment as Head of Cards Sri Lanka and Maldives. Thimal has extensive experience covering several large international markets including Commercial Bank of Qatar in the capacity of Head of Cards, Saudi British Bank - HSBC, KSA as Head of Cards and Consumer Finance, and Regional Head of Cards and Direct Channels of HSBC (Middle East) overseeing Middle-East, North Africa and Pakistan. Prior to joining HNB, he held the position of Product Director, Barclays Bank Plc, UAE.


Ruwan Manatunga is a Fellow Member of The Chartered Institute of Management Accountants, UK and an Associate Member of the Institute of Chartered Accountants-Sri Lanka. He counts over 18 years of work experience of which 12 years has been at HSBC Sri Lanka, where he held several managerial positions in Personal Banking, Credit Cards and Corporate Banking and that of Deputy Head/Senior Manager, Corporate Banking.


Hatton National Bank is a premier private sector commercial bank with a network of 250 customer centres spread across the length and breadth of Sri Lanka and caters to all segments of the market through its diverse product and service offering. The Bank is also involved in insurance and capital market operations in the Country through its Group companies. During 2013, HNB's asset book surpassed Rs 500bn, while the Bank recorded a pre-tax profit of over Rs.10Bn for the year. Hatton National Bank has been awarded by the Asian Banker Magazine as the 'Best Retail Bank in Sri Lanka' for 6 consecutive years for its performance from 2007 to 2012 and named as the 'Bank of the Year in Sri Lanka' for the year 2012 & 2013 by the Banker Magazine of UK. In 2012 HNB became the first Sri Lankan bank to obtain an international credit rating and was assigned a foreign currency issuer rating of B1 on par with the sovereign rating by Moody's Investors Service, while it has a national long term rating of AA-(lka) by Fitch Ratings (Lanka) Ltd